Cookbooks written by people who are passionate about their work are the best cookbooks. It's in this spirit that I present Tom Mylan's The Meat Hook Meat Book. Mylan is one-third of the braintrust behind The Meat Hook, a little butcher shop with big personality tucked below the Brooklyn Queens Expressway in Williamsburg, Brooklyn. This book is meaty (pun intended). It has everything you need to know about how to select, order, prepare and enjoy great meat — plain and simple. The book overflows with mouthwatering recipes, thoughtfully funny anecdotes and an insider's look at the art and craft of butchery. Mylan's wit weaves itself through every chapter, making it an exceptionally fun read.
The deeper into it you dig, the more apparent it becomes that The Meat Hook Meat Book is more than a collection of recipes. If you want to learn about different cuts and how to cook them, this is the book for you. If you're curious about grilling, smoking, roasting and braising, this is the book for you. If you just want to plan your weekly meals with the confidence of knowing you know how to make the perfect roast chicken, pork chop or steak every time, this is the book for you. If you just want a little more confidence when ordering from your local butcher shop or supermarket butcher counter, this is the book for you. Mylan has thrown open the door to the secret world of a butcher's life and invited you in for supper.
There's nothing better than a lazy weekend afternoon at home, with ribs, burgers or steak sizzling happily on the grill. Mylan's recipe for Rooftop Ribs (below) is perfect for your weekend backyard cookout. Heads-up: This recipe calls for a rub applied the night before cooking, so plan ahead. You can order your own copy of The Meat Hook Meat Book here.
Rooftop Ribs
Serves 4
1 cup kosher salt
2/3 cup packed light brown sugar
2 racks St. Louis-style spareribs
1 cup cider vinegar
Special Equipment
Charcoal barbecue grill, or the like
Nonreactive food-safe container
Wood chunks of your choice
Small spray bottle
The day before you plan to be eating your ribs, mix the salt and sugar in a small bowl. Put the ribs in the nonreactive food-safe container and rub the sugar-and-salt mixture all over them. Wrap the ribs in plastic wrap and place on the bottom shelf of the refrigerator.
On the day of the main event, build a small charcoal fire off to one side of your grill, as far away as possible from where your smoking is going to go on, preferably directly over the bottom vent. Once the fire has burned to white coals, remove the ribs from the plastic wrap, put them on the grill, cover and open both the top and bottom vents. Cook for 30 minutes.
Fill a small spray bottle with the cider vinegar. Add 2 or 3 wood chunks to the coals and close the top and bottom vents about halfway. Continue adding chunks of wood, keeping the heat going at a nice gentle smoke for about 3 hours. Lightly spray the ribs with the vinegar and flip them every 45 minutes or so. When the ribs are about done, they will start looking done. What does that look like? Uh, like ribs that are done! Seriously. You've eaten ribs — you know what they look like: glossy with glaze and the meat pulling back from the rib tips. When in doubt, cut off a rib and try one. Not tender enough? Give them another 30 to 45 minutes, then try again. Dry? Better luck next time and don't add as much wood/heat. Either way, serve immediately.
Credit: Excerpted from The Meat Hook Meat Book by Tom Mylan (Artisan Books). Copyright © 2014.
More posts from Mallory Viscardi.
Similar Posts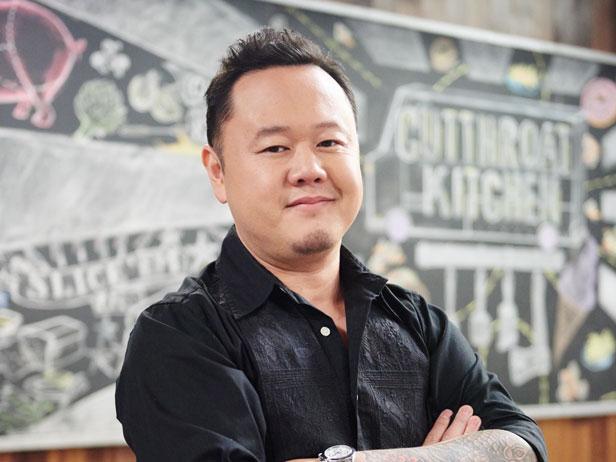 Find out how you can enter to win a copy of Jet Tila new cookbook....