Are we on the cusp of a full-on kelp craze? Not only have magnetic fake kelp forests recently been touted as an eco-friendly way to repel sharks and prevent attacks on beaches, but the nutrition-packed seaweed is also being hailed as the "next big superfood."
"Eat Kelp. It's chock-full of nutrients, it mitigates climate change by sequestering carbon, improves oceans by soaking up excess nitrogen and phosphorus, and has potential as a valuable fertilizer and biofuel," Patrick Mustain, a communications manager at the Yale Rudd Center for Food Policy and Obesity, recently wrote in Scientific American, in a blog post titled "Move Over, Kale, The New Super Vegetable Comes From The Sea."
What's more, Mustain added, "It's also delicious."
On the environmental news and commentary website Grist, Samantha Larson echoes Mustain's yelp for kelp — hailing its ability to grow without fresh water or land, the way it cleans the water in which it does grow, and its nutritional value: It's a concentrated source of calcium and iodine and has been found to have natural antioxidant properties and other benefits.
It's important to keep in mind, however, that a typical serving size of kelp, which is not huge, is not going to have magical health effects. In addition, moderation is recommended in consuming it, especially as it can have side effects for some people. (Also remember: Herbal supplements are not regulated by the FDA, and some herbal kelp supplements have been found to have harmful effects.)
Chefs like Bun Lai of Miya's Sushi in New Haven, Conn., and David Santos of New York City's Louro have been experimenting with using kelp in their dishes in imaginative new ways.
"It has all the essences of the ocean without the salt; that's how I describe the flavor profile," Santos told the website TakePart.
If you'd like slide some seaweed into your family's diet, try Robert Irvine's Cucumber and Marinated Seaweed Salad, Barbara Ishida's Ogo (Seaweed) Salad with Fresh Lemon Dressing or Michael Voltaggio's Seaweed Mashed Potatoes. Why not catch the kelp wave?
More posts from Amy Reiter.
Similar Posts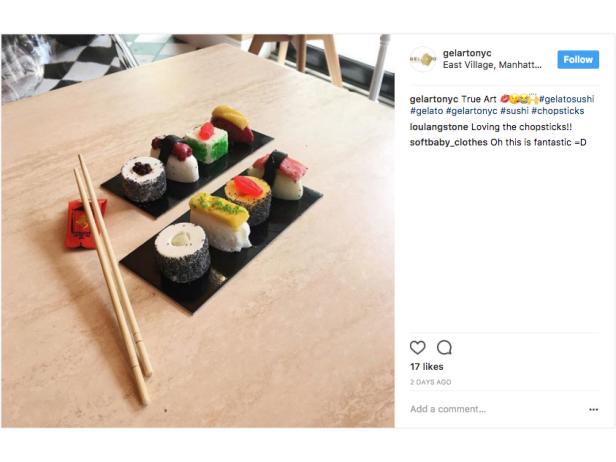 Nothing says summer whimsy like gelato in the shape of pieces of nigiri. ...