Remember the days when your ice cream cake yearnings could be realized with only a trip to the freezer section? Yeah, those days are long gone. It turns out that you don't need to coax a store-bought ice cream cake from a cardboard box for all of the "Whoa, is that an ice cream cake?!" pandemonium to ensue. With just a few store-bought ingredients (or homemade ingredients, if you're feeling particularly ambitious), you can make a showstopping centerpiece for your next birthday party or special occasion, stacked with ice-cold layers of cake, ice cream and all kinds of goodies. Here's how:
To Begin
Before you get started, get your game face on. You'll have to work fast to prevent your cake from melting during assembly. While you take the ice cream out of the freezer and wait for it to soften up, place a loaf pan, sheet pan or baking pan in the freezer for 15 minutes. From there, line the cold pan with plastic wrap, with 6 inches of excess hanging over each side. Place a cooled cake layer on the pan and top with 3 cups softened ice cream.
Spread Evenly
Like you'd slather on your favorite icing, spread the ice cream over the entire cake until it's even and smooth, using a knife or an offset spatula.
Top with Texture
Give the cake some crunch by topping the ice cream with crushed cookies, brownie bits or chocolate chips.
Load It Up with More Ice Cream
Counter the added crunch with another layer of soft, creamy ice cream.
And Spread It Evenly
Using a knife or an offset spatula, spread more ice cream over the cake evenly to cover the crunchy layer.
Top with the Second Cake Layer
Cover the ice cream layer with the second cooled cake. To make it sturdy, place the cake in the freezer for 1 to 2 hours, or until it's completely frozen.
Crown the Cake
Remove the cake from the freezer and spread the topping, such as fudge sauce, meringue or whipped cream, over the cake and place it back in the freezer for an hour, or until it sets. Once it's sturdy, an ice cream cake of your very own is ready for candles.
Get the full step-by-step how-to from Food Network. For more showstopping cakes, try these recipes for ice cream cakes and pies.
More posts from Allison Milam.
Similar Posts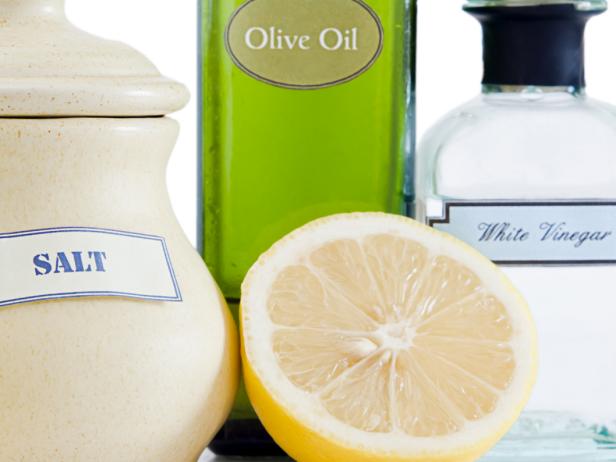 Before you reach under the sink for any household cleaning products, give DIY cleaners a try to polish stainless steel, clean grease stains and freshe...