Summer is the time for get-togethers and cocktail parties. While having friends over on warm and sunny evenings is always fun, it can be a bit daunting when you find yourself strapped for time when guests plan to come over at the last minute. To help with that, Giada De Laurentiis has a plan. From a list of ingredients to keep on hand to a bunch of quick and easy recipes, here are Giada's best last-minute party tips.
"I have a well-stocked pantry," stresses Giada. She says that the main ingredients to always keep on hand are canned beans — they help her whip up some hummus in no time. "It adds nice creaminess to the dip," she says.
Get the Recipe: White Bean and Roasted Eggplant Hummus
Pasta is a fairly easy and much-loved party dish. To always be prepared, Giada keeps a stack of pasta boxes in her pantry, as well as her favorite canned sauces, which she can then doctor up by adding other pantry staples such as canned olives and tuna. "You can literally make a sauce in 15 minutes," she says.
Get the Recipe: Linguine with Sun-Dried Tomatoes, Olives, and Lemon
"A lot of times I bake and freeze cookies," says Giada. "And then if somebody's coming over, I can stick them in the microwave for, like, a minute, to warm them through, and then I put them on a cookie platter." It's easy to be ready for a party when you only have to microwave pre-made desserts.
Get the Recipe: Hazelnut Chocolate Chip Cookies
Want more party ideas from Giada? Click play on the video below.
More posts from Nikhita Mahtani.
Similar Posts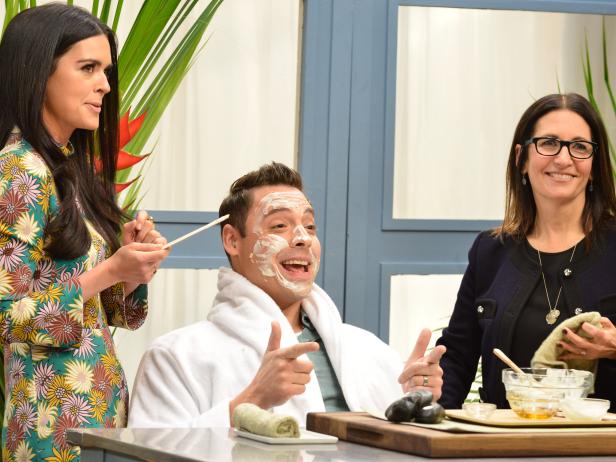 You don't have to travel somewhere exotic to make the most of your time off....