Watermelon's always been the coolest fruit of summer. When I cut into a watermelon, it's either for a last-minute barbecue contribution or an instant "side dish" for the kids — seed-spitting contests are just a bonus. It has plenty of vitamins A and C, and it's ready in two minutes flat. Wedges, cubes, balls of sugary-sweet juiciness — the options are endless and there's no oven required. But maybe I need to hone my knife skills and take a slice from Vancouver's Clive Cooper, a government worker by day and artist by night whose latest extreme watermelon carvings give fruit-platter party planners something to, well, chew on.
I thought Cooper and his fabulous menagerie were the "why" of a spike in watermelon searches reported by Yahoo web trend expert Lauren Whitehouse a week or two ago; since then his fierce alligator carving and the latest, the triceratops above, have been stomping their way through food news and Facebook. He's not the only one; Pinterest is ripe with countless carved characters. Why, after all, should food fans have to wait for pumpkin season to make faces? As to folks searching "watermelon," they wanted to know how many calories are in the fruit (about 50 per cup) and how to cut it (try Alton's cut-the-ends-first method); there was also a 500+ percent increase in searches for "watermelon cake" (not a cake at all but a trompe-l'oeil fun fruit dessert), plus plenty of people pondering perennial favorites likes drinks and refreshing salads with watermelon (with feta as a partner; here is Ina's take, one of my go-to's for summer guests).
For their part, Cooper and his wife, Sharon, don't eat watermelon often, and certainly don't feast on the fruits of his labor: post-carving watermelon is too soft to eat — the alligator took a dozen hours. Sometimes they juice melon and otherwise keep it simple. "When bbq season is here," Cooper says, "I love to wrap melon with prosciutto and grill it. Then I add it to an arugula salad with toasted hazelnuts or candied pecans." Delicious as that sounds, his real art is outside the kitchen. Cooper's been carving watermelons for four or five years (and pumpkins going back to a work contest in 1996) and lately has added strawberries to his roster. Melon carving sounds like a a fun activity to complement pooltime with the kids and their pals, supervised of course (knives!). Start the backyard bash by cutting out goofy grins and arching eyebrows, jack-o'lantern style, rather than attempting a jackolope or tyrannosaurus. What to serve? After the jump you'll find my top five picks for melon-centric salads, drinks and frozen treats for when you carve out time for a watermelon party.
 1. Fish Tacos with Watermelon Salsa
No carving needed, and I hear Clive likes avocado. I made watermelon salsa to top chicken tacos the other night and it really should be more of a thing–so juicy and bright.
2. Watermelon Sours in a Watermelon "Keg"
For grown-ups only, this gin-plus-sour-mix, spigot-on-fruit idea from Food Network Magazine will one-up the satisfaction of Yahoo searchers who were looking for watermelon margaritas.
3. Watermelon Choppedsicles: Melon, Chili and Basil

Food Network Kitchen conjured this winning dessert out of a summery Chopped basket; chill out with pops made of melon and basil spiked with chile powder.
 4. Jicama and Watermelon Salad
Jicama might be the only produce that's more refreshing than melon. Here they sparkle together with citrus juice, honey and torn mint.
 5. Watermelon Granita
This sweet finish conjures a slick restaurant dessert but is super simple to make at home.
And if you're still hungry, try out these drink and treat ideas. Meantime, I'll be sharpening my knives and smiling.
More posts from Debra Puchalla.
Similar Posts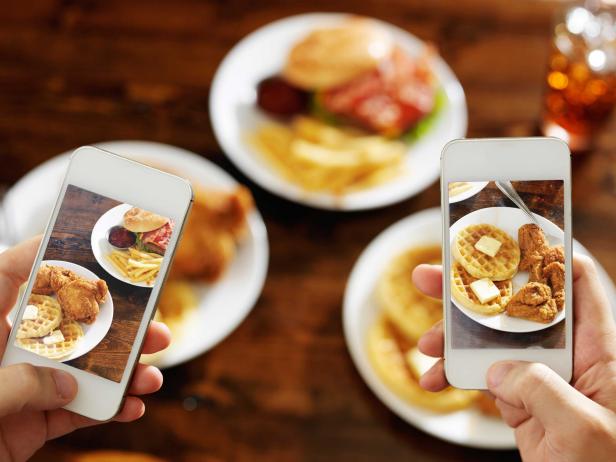 Artificial intelligence can now help you get the recipe for a dish just by uploading a photo of it....