Picture summer without nibbling on at least one ear of corn. How could you? This time of year, this staple crop is sweeter and juicier than ever. And, though it doesn't need much else than a humble slathering of butter, the possibilities for the in-season ear don't end there. Think of it as a kernelled canvas — one that can come drizzled, dusted or simply grilled to charred perfection with little effort at all. This week, take your pick of Food Network's most-brazen corn-on-the-cob recipes and reinvent how your family devours corn on the cob.
In this summer heat, the most-fitting way to take your corn is by way of the grill. Bobby Flay's Perfectly Grilled Corn on the Cob (pictured above) shows you how to do it once and for all. After giving the corn a good pre-soak, grill each ear with the husks on till the kernels are tender.
Corn can be sweet and juicy on its own, but it definitely doesn't stop there. Next time you're grilling up some corn, hit it with a little smoked paprika for Food Network Magazine's Smoky Corn on the Cob. If you have a hankering for a different kind of smoke, brush cooked corn with rendered bacon fat before coating with diced bacon, panko and chopped basil. Hey, it can even take a surprising Asian spin, with a brush of miso butter and a sprinkling of nori.
Instead of reinventing the corn itself, think about the butter. Slather Tyler Florence's Grilled Corn on the Cob with Lime Butter, and the citrus-spiked butter will work as a glue for queso fresco and his Ancho Chile Rub. Or simply puree fresh herbs with softened butter for Food Network Magazine's Corn on the Cob with Basil Butter, which injects each ear with aromatic flavor. A sprinkling of Parmesan cheese couldn't hurt either.
It's not necessarily sacrilegious to cook your corn off the grill this summer. Tyler makes Oven-Roasted Corn on the Cob so perfectly cooked there's no need to even dress it up. Simply peel down the husks and use as a makeshift handle as you're chowing down. Or if you're feeling desperate, Microwave Corn on the Cob is a thing — and, if you ask us, it turns out to be pretty good.
Get more corn recipes from friends and family:
The Lemon Bowl: Corn on the Cob with Lemon Basil
Feed Me Phoebe: Grilled Corn on the Cob with Honey-Basil Butter
The Heritage Cook: Mexican Elote Corn Casserole (Gluten-Free)
The Cultural Dish: New England Seafood Boil
Dishing With Divya: Corn on the Cob with Roasted Garlic Herb Butter
Virtually Homemade: Grilled Corn with Tomato Basil "Butter" (Vegan)
Devour: 4 Cobs, 4 Ways
Daily*Dishin: Quick Thyme Corn Cobbettes
Napa Farmhouse 1885: Farmers Market Salad with Grilled Corn
Red or Green: Grilled Corn on the Cob
Elephants and the Coconut Trees: Buttery Corn on the Cob
Weelicious: Cheesy Corn on the Cob
Domesticate Me: Charred Corn with Bacon, Chiles and Cheese (aka Mexican Street Corn Salad)
Swing Eats: Corn Pasta with Fresh Summer Corn, Tomatoes and Chives
Haute Apple Pie: Roasted Corn off the Cob Salad
Taste With The Eyes: Grilled Corn, Soy Mirin Glaze and Wasabi Goat Butter
In Jennie's Kitchen: Corn and Lemon Thyme Ice Cream + Homemade Creamed Corn
FN Dish: Off-the-Chart Corn on the Cob Recipes
More posts from Allison Milam.
Similar Posts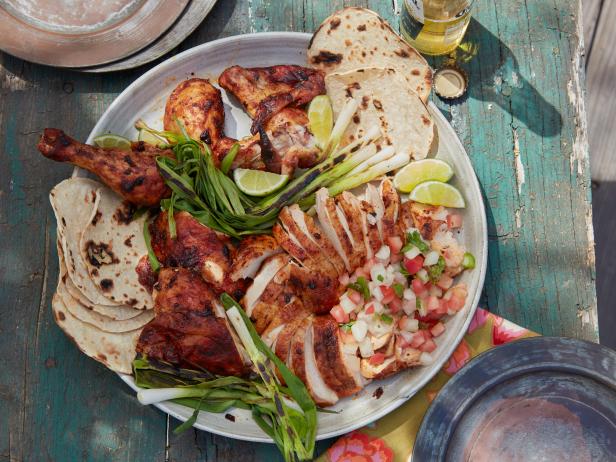 A little preparation means you can enjoy cookouts as much as your guests....