Four young chefs-in-training entered the competition on tonight's first episode of the five-part Chopped Teen Tournament. But only one kid made it through all three rounds of mystery baskets, securing a spot in the grand finale, where he or she will have the chance to win $25,000 in prize money, a $40,000 culinary school scholarship and bragging rights as the first Chopped Teen Grand Champion, which goes pretty far when you're just a kid in high school. FN Dish has the exclusive interview with the teen chef winner from Part 1.
The Baskets
Appetizer: cherry drink-soaked pickles, lamb loin chops, kale chips and ricotta salata
Entree: mahi mahi, cookie snack chips, green beans and french fries
Dessert: a gourmet frozen yogurt sundae, white balsamic vinegar, puffed rice cereal bars and dulce de leche
Elimination Details
First round: Alexandria
Second round: Ashley
Final round: Jay
Winner: Jason
Judges: Geoffrey Zakarian, Amanda Freitag and Marc Murphy
Jason came in as the youngest competitor with something to prove, i.e., he could cook just as well as the older kids — and he did just that. He may have surprised his competition, but he surprised himself most of all, making it through all three rounds with dishes that showed a maturity toward ingredients and techniques. He'll be back Aug. 12 to compete with the winners of the next three preliminary rounds in the tournament.
Were you nervous at all? You seemed to be really cool, calm and collected.
I was nervous for the whole entire thing, but by the end I was relieved. But still, I have to come again.
How different was actually competing? Was it like you expected?
It was a little easier. I thought it would be a lot harder and that the baskets were going to be disgusting, but they weren't. The difference was the kitchen was a lot smaller than I thought it would be. There also was a lot less ingredients in the pantry.
What was the hardest basket for you today?
The entree round. I didn't know what to do with the mahi mahi. I didn't know that I had to take the skin off. I didn't know a lot of the details. I didn't know what to do with the french fries or the cookies, so I just mixed it up together.
Why did you put the cookies on the plates at the end?
I thought they wouldn't know there were cookies in it, so I just threw them on in the last three seconds.
You didn't end up having time to make a sauce in the entree round. Do you think you would have done something differently?
I thought of having a creamy sauce. But having a light fish with something heavy didn't seem like it paired well for me.
Ted called you a natural. What do you think about that?
I think I'm a natural. I kind of just watch cooking shows and read cookbooks. I come up with stuff. So, I mean, maybe I'm a natural. I just have a lot of practice.
How did you get interested in cooking?
I kind of starting cooking for my dad a lot for breakfast, and then I went on from there. And now I cook dinner fairly often.
What made you reach for the whipped cream canister in the dessert round? You said you kind of wanted to make ice cream but decided against it. Why?
They say no one really knows how to use the ice cream machine. At a culinary class they taught me how. I thought that was a good advantage. I wanted to make ice cream, but I was scared to. But then I got frozen yogurt, so I was like, how am I supposed to make an ice cream? What can you do with frozen yogurt in a dessert basket? It's already dessert. So I just made quenelles. I knew I was going to make something easy.
Do you have any goals going into the finale?
I want to learn more dessert things. I want to know how to make a good ice cream. If they give me a whole fish, I think I'm going to fail. I just don't know that.
What do you think your friends will say when they see you on TV, especially because it sounds like most haven't seen you cook before?
I think that they'll say: "How did he do that? I didn't think he knew anything!"
More from this Episode:
Top Moments (Photos)
Green-Beans-and-Cookies Sauce (Video)
Visit Chopped headquarters for the latest on the Teen Tournament.
More posts from Joseph Erdos.
Similar Posts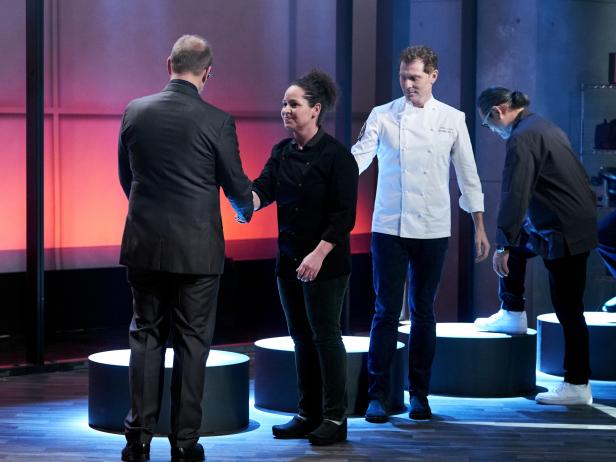 Get the latest details on the all-new series Iron Chef Showdown....