If you cast chicken recipes to the side as boring weeknight standbys, perhaps you haven't kicked on the grill yet this summer. When this go-to white (or dark) meat hits the grates and lets out a searing sizzle, the meat that always has your back becomes tender, juicy and full of charred flavor. This week, run down the line of Food Network's finest grilled chicken recipes, each coming with a twist that goes beyond a slathering of barbecue sauce.
The grill master himself is bound to have a few solid grilled chicken recipes up his sleeve. Bobby Flay's Grilled Honey-Glazed Chicken with Green Pea and Mint Sauce whisks together balsamic vinegar and honey to brighten bone-in chicken breasts. If the darker meat is more your style, Bobby marinates chicken thighs in loads of citrus and chili powder before piercing with skewers for Grilled Yucatan Chicken Skewers.
Remember when that addictive fried chicken taste required, you know, frying? Instead of all the oil-dunking, Food Network Magazine's Crispy Grilled Chicken Thighs get that crispy, breaded exterior from being coated with breadcrumbs and spending some time on the grill.
You better believe that Alton Brown has a procedure for the best grilled chicken. After being wet-brined and seasoned to perfection, his Ring of Fire Grilled Chicken receives a sear from direct heat before being finished over indirect heat.
Ginger beer can craft more than a good Moscow mule. Grilled Ginger-Beer Chicken by Food Network Magazine uses the potent soda for a sauce with a different type of spice. If cooking with real beer is more your taste, go for Patrick Neely's Beer Can Grilled Chicken. Sit a well-seasoned bird on top of a can so that, as it cooks, the beer will heat up and infuse the meat with moisture.
Food Network Magazine's Pepper-Jack Chicken with Succotash comes stuffed with spicy cheese and peppery arugula. When it leaves the grill, it's oozing with peppery creaminess.
More summer chicken recipes from friends and family:
Feed Me Phoebe: Grilled Buffalo Chicken Quesadillas
The Lemon Bowl: Indian Spiced Grilled Chicken
Jeanette's Healthy Living: Fajita Spiced Beer Can Chicken
Dishing With Divya: General Tso's Chicken with Indian Jeera Rice
Weelicious: Breaded Chicken Cutlets with Pea Salad
Sweet Life Bake: Chicken Fajitas
Napa Farmhouse 1885: Farmhouse Fried Chicken
Red or Green: Spicy Chicken Provencal with Peppers and Heirloom Tomatoes
Elephants and the Coconut Trees: Sweet and Sour Sesame Chicken
Domesticate Me: Cilantro-Lime Grilled Chicken with Strawberry-Jalapeno Salsa
Devour: 5 Sizzling Skewers
Swing Eats: Long John Silver's Style Fried Chicken Planks (Gluten-Free)
Food for 7 Stages of Life: Best Tandoori Chicken Recipe
Taste With The Eyes: Perfect Chicken Dish to Serve to a Crowd
FN Dish: Chicken is Better with Grill Marks
More posts from Allison Milam.
Similar Posts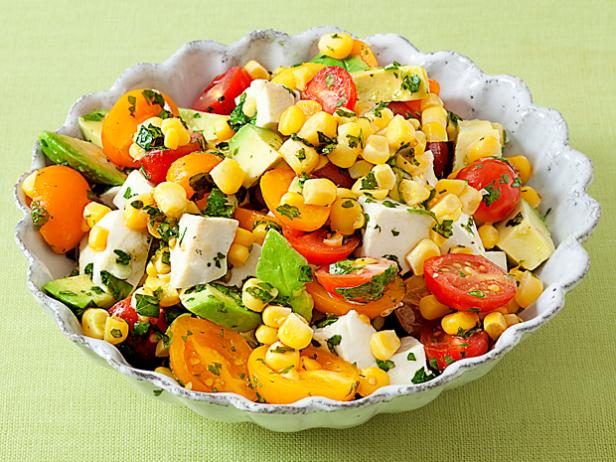 When it's too hot to cook, look no further than these tomato-focused recipes....