Golden-brown pies with fresh, seasonal produce are some of summer's top treats, but when a chocolate craving strikes, brownies are the ultimate way to satisfy that sweet tooth once and for all. Just like cookies, brownies are quick to prepare and easy to pack, which means that they're a go-to pick for picnics and potlucks alike. Master a classic recipe, like Alton's Cocoa Brownies listed below, then experiment with such sweet and salty additions as marshmallows, caramel and peanut butter. Read on below to get Food Network's top-five traditional and creative brownie recipes from Bobby, Alton, Giada and more.
5. Cheesecake Brownies — Surprisingly light and simple to make, these moist brownies boast a buttermilk-laced batter and a smooth sweetened-cream cheese topping. Mix the two together to create an impressive swirled effect.
4. S'more Brownies — Turn the campfire favorite into an everyday treat by using classic s'more ingredients — graham crackers, chocolate and marshmallows — to create layers of flavor in brownies.
3. Peanut Butter-Caramel Swirled Brownies — Bobby uses a duo of chocolates — bittersweet and unsweetened — to make his over-the-top brownies, which become extra special with the addition of gooey, delicious peanut butter caramel.
2. Cocoa Brownies — A fail-safe recipe that delivers tried-and-true results every time, Alton's easy brownie batter comes together with just a handful of common ingredients.
1. Frozen Brownie Sundaes — Giada's party-ready brownies (pictured above) feature a dulce de leche ice cream center and indulgent topping of chocolate cream. She saves time in the kitchen by using a boxed brownie mix to make the base of these squares, which are best kept cold. Be sure to serve the dessert with Giada's bright strawberry sauce to add a fruity finish.
Related Reading:
More posts from Maria Russo.
Similar Posts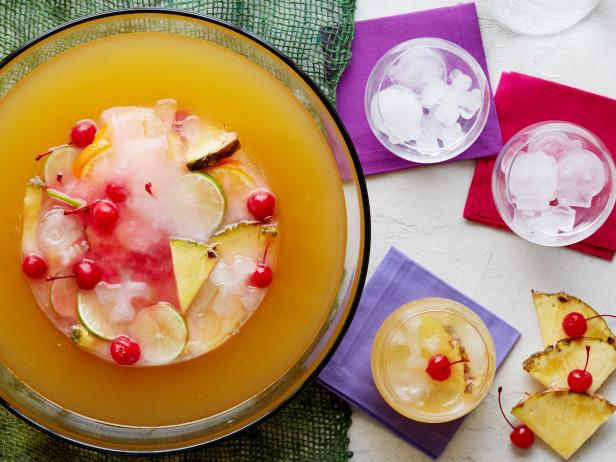 From formal events to backyard barbecues, punch is a party favorite for the ages....