No matter if you're hosting a weekend cookout or you simply have a sweets craving that needs curbing, you shouldn't have to turn on your oven on already sticky, scorching days to turn out a winning dessert. In these dog days of summer, stick with no-bake treats that come together quickly and rely on the freezer instead of the oven. From chilled pies and ice cream on a stick to bite-size peanut butter treats, there's no shortage of both kid-friendly and party-worthy ideas to help you cool off all season long. Read on below to get Food Network's top-five beat-the-heat recipes from The Pioneer Woman, Tyler Florence, the Neelys and more chefs.
5. Chocolate-Banana Ice Cream Pie — Both kids and kids at heart will appreciate the tried-and-true flavor combination of chocolate and fresh bananas, here made into an easy-to-prepare pie with a vanilla wafer crust, a duo of ice creams in the center and a toasted coconut topping.
4. Ice Cream Freezer Pops — Perhaps the best part about The Pioneer Woman's treats is that you don't need fancy molds to make them; just fill throw-away paper cups with layers of candy and rich vanilla ice cream.
3. Frozen Strawberry Cheesecake — It takes a cheesecake to make a cheesecake: Start with the prepared variety, then chop it up, mix it with strawberry ice cream, and use that combination to fill a graham cracker crust for the ultimate over-the-top dessert.
2. Frozen Peanut Butter Bites — Made with only four everyday pantry ingredients, the Neelys' bite-size beauties can be prepped and ready for the freezer in mere minutes.
1. Neapolitan Ice Cream Sandwich Cake — The name of the game is layering when it comes to Food Network Magazine's colorful, refreshing dessert (pictured above), boasting a base of classic store-bought ice cream sandwiches, plus strawberry and mint chip fillings. Finish with a chocolate shell topping for an extra-special indulgence.
More posts from Maria Russo.
Similar Posts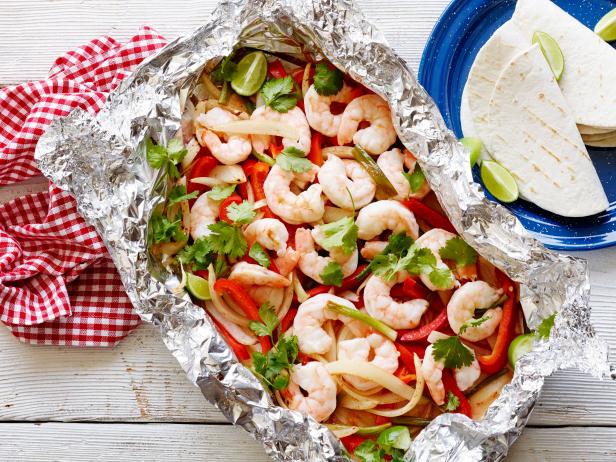 If you're looking to take advantage of the longer, sun-filled days of summer, try taking your weeknight dinners outdoors to the grill. Add foil pack...