The American tradition of the cabbage side dish has been carrying us from barbecues to cookouts to picnics since the inaugural gingham picnic blanket was first laid. Maybe that's an exaggeration, but we just can't imagine summer eating without it on our plates. Creamy, crunchy and tangy, a helping of classic coleslaw does wonders piled on a pulled pork sandwich, and is impressive even taken on its own. But that's only the beginning. This week, give your coleslaw game an edge with four tricks that will turn even the mayo haters into slaw fanatics.
Add Color: If you wholeheartedly believe that coleslaw can exist only in the form of a monochromatic pile, you've probably never laid eyes on Ree Drummond's Colorful Coleslaw. The Pioneer Woman proves that, when done right, coleslaw can be the standout side on your plate, especially with the bright shades of carrots, purple cabbage and a spectrum of peppers in tow.
Add Fruit: The next side may come with blueberries, but it's no fruit salad. Michael Symon's Blueberry Coleslaw for Food Network Magazine uses the berries to add a pop of juice between bites of crunchy cabbage. If grapes are more your style, fold them into Food Network Magazine's Creamy Coleslaw with Grapes and Walnuts.
Add Spice: A hit of cayenne pepper gives Patrick and Gina Neely's Sweet and Spicy Coleslaw for Food Network Magazine tangy heat, while fresh herbs and a spike of lime make Tyler Florence's Savoy, Lime and Cilantro Coleslaw for Food Network Magazine the dream topping for a crispy fish taco.
Add Texture: If you need more than shredded cabbage to get you on board, Tangy Coleslaw with Smoked Corn and Lime Dressing (pictured above) incorporates freshly home-smoked kernels, in addition to being completely mayo-free. Or add soft sauteed dried fruit to Geoffrey Zakarian's Gingered Coleslaw with Golden Raisins to counter the zip from fresh ginger.
More coleslaw recipes from friends and family:
Feed Me Phoebe: Healthy Broccoli Slaw with Yogurt-Mint Dressing
The Heritage Cook: Ranch-Flavored Cole Slaw (Gluten-Free)
Weelicious: Grated Vegetable Slaw
Daily*Dishin: Pineapple Jalapeno Coleslaw
Virtually Homemade: Sweet and Spicy Mexican Slaw
Napa Farmhouse 1885: Apple Cider Coleslaw
Red or Green: Purple Cabbage Slaw with Honey/Chipotle Vinaigrette
Devour: Coleslaw Around the World
Sweet Life Bake: Cumin-Lime Coleslaw
Elephants and the Coconut Trees: Vegan Coleslaw
Swing Eats: Thai Coleslaw
Taste With The Eyes: Spicy Rainbow Slaw
FN Dish: 4 Tricks for Shredded Slaw Glory
More posts from Allison Milam.
Similar Posts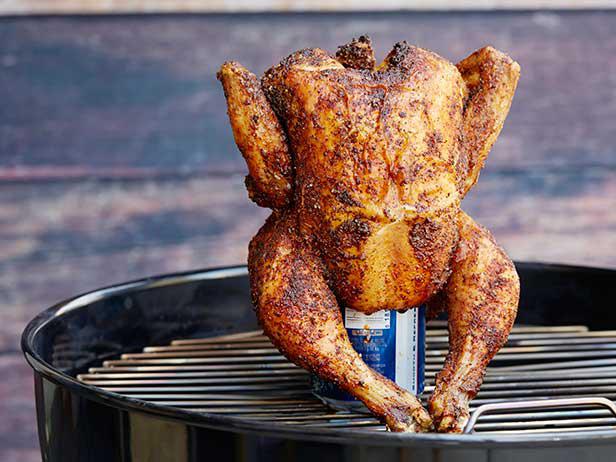 This clever grilling technique is easy enough to perfect even on your first try making it....