From creative burger-making to hours of competition, there's something for everyone this weekend on Food Network.
First, check out new episodes of Farmhouse Rules and The Kitchen. Nancy brings home a delicious trout after a day of fly-fishing and the hosts of the Kitchen get creative with their best summer burger recipes.
On Sunday, join Bobby Flay as he takes you through his favorite grilling recipes using skewers. Afterward, tune into some fun and games with all-new episodes of Guy's Grocery Games, Food Network Star and Cutthroat Kitchen.
Nancy and her son John love the outdoors, and decide to spend the day fly-fishing. Nancy takes the catch home and cooks up a cozy dinner of Bacon-Wrapped Trout, Asparagus with Creamy Tarragon Vinaigrette and Peanut Butter Cookies.
Saturday 10:30a|9:30c
This week on The Kitchen, it's all about burgers! Geoffrey makes the ultimate beef burger with a name you won't soon forget! The hosts take a pass on ordinary fries and cook up out-of-this-world sides. Guest Roger Mooking goes burger-to-burger with Geoffrey and stacks up a delicious cheeseburger. The gang enjoys a sweet treat of flavored ice that's so fluffy it tastes like freshly fallen snow.
Saturday 11a|10c
Barbecue Addiction: Bobby's Basics – Simply Skewers
Chef Bobby Flay creates a Mediterranean-inspired menu using some of his go-to grilling tricks. He'll use his favorite gadget — skewers — to make grilling simpler for zucchini with a jalapeno yogurt sauce and for shrimp drizzled with a Calabrian chile oil, served with a Greek spin on classic pasta salad. Plus, get Bobby's foolproof formula for mixing up a pitcher of refreshing sangria.
Sunday 11a|10c
Guy's Grocery Games: Produce and Cons
In the first game, the four chefs are allowed to shop only in the middle aisles to make their vegetarian feast. Then, the chefs must prove that they can master surf and turf — on a budget! Next, the final two chefs will cook from the rainbow as they make their most-colorful and best dishes.
Sunday 8|7c
Food Network Star: Live Demo at Knott's Berry Farm
Live demos are a staple of every Food Network Star's repertoire. In this week's challenge the finalists take the stage at Knott's Berry Farm — an amusement park built on a deep culinary tradition — to perform a food demo for hundreds of park visitors. The finalist who fails to wow the crowd with his or her show and food goes home.
Sunday 9|8c
Cutthroat Kitchen: You Wanna Pizza This?
One chef gets their hands dirty when they dig up all their ingredients from a wacky vegetable garden — one that grows anything but vegetables. Then one chef gets punished for trying to "phone it in" during a pizza challenge.
Sunday 10|9c
More posts from Nikhita Mahtani.
Similar Posts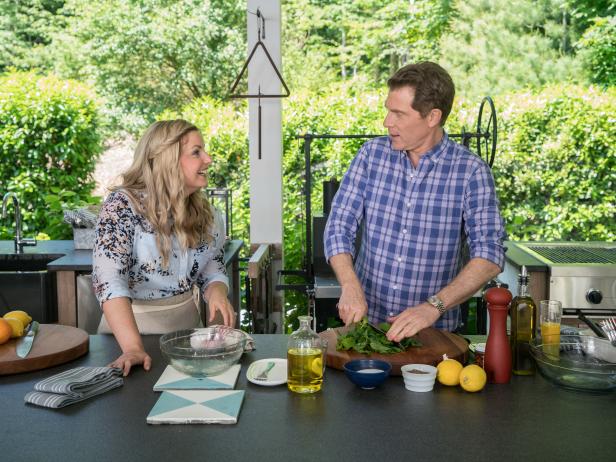 Get the latest details on the all-new series, The Bobby and Damaris Show....