As the weather heats up and spring sweaters get swapped for sleeveless summer tops, many java lovers trade their piping cups of joe for iced coffee. The clinking cubes bring a coolness and comfort to our daily caffeine fix on sizzling days, the straw a sense of beachy fun and festivity.
This year the excitement about cold caffeinated beverages is more than simply seasonal: Iced coffee (not to mention its fancier cousin, iced latte) is suddenly hot — enjoying an undeniable moment in the sun.
"This is a good era for iced coffee," Oliver Strand asserts in a New York Times article about the "exquisite," "carefully formulated and fastidiously made" iced lattes on offer at high-end Los Angeles coffee bars Go Get Em Tiger and G & B Coffee. (The bars' iced almond-macadamia milk latte, Oliver contends, is "one of the best iced coffees in the United States and almost certainly the best latte.")
Until recently, iced coffee "was either brewed coffee that sat in the refrigerator or a blender drink with the calorie count of a sundae," Oliver writes. "Today a wave of creativity is surfacing at the cutting-edge shops, where coffee is labeled not just by the farm where it was grown but with the names of the farmers."
And while the Times celebrates the culinary pleasures of "innovative" iced coffee creations on the rise in upscale cafes, one of the broadsheet's tabloid newsstand neighbors, the New York Post, has noted that iced coffee — served in kegs, no less — is the latest perk on offer at the hippest offices. (Town & Country spotted the trend too.)
But perhaps you'd prefer to enjoy your suddenly fashionable iced coffee in the comfort of your own home — and take it to the next level? Food Network has lots of great recipes for you to try:
You could get a cool buzz with Ina Garten's Iced Coffee or Viennese Iced Coffee, or Ree Drummond's Perfect Iced Coffee. You can also follow these instructions for Cold-Brewed Iced Coffee (pictured above), for a drink that's "less acidic and infused with sweet undertones."
More posts from Amy Reiter.
Similar Posts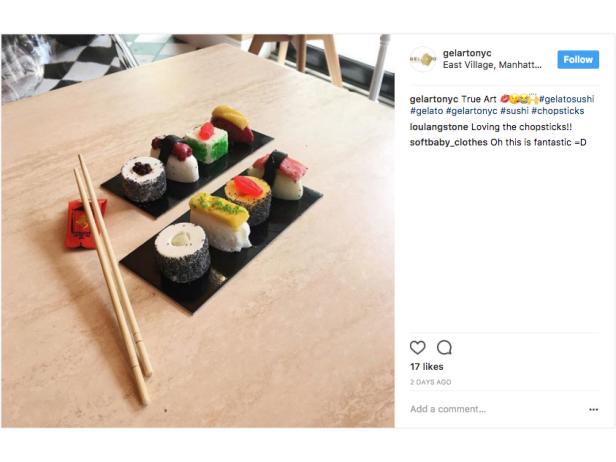 Nothing says summer whimsy like gelato in the shape of pieces of nigiri. ...