Celebrate Father's Day with Food Network as your favorite stars create special recipes to help Dad feel loved and admired. Then, get set for three hours of competition with episodes of Guy's Grocery Games, Food Network Star and Cutthroat Kitchen.
This Saturday, Nancy Fuller hosts a festive dinner of her own to commemorate 20 years since she bought her home. The hosts of The Kitchen create delicious brunch recipes for Dad and cover some last-minute gift ideas.
On Sunday, Guy Fieri puts a Chinese twist on his Father's Day recipes on Guy's Big Bite. Later in the evening, come back for more Guy on a new episode of Guy's Grocery Games. After that, the Food Network Star contestants must please Alton Brown in a Cutthroat Kitchen-themed challenge. Then, tune in for more Cutthroat Kitchen with a brand-new episode.
Farmhouse Rules: Fuller Farm Fest
Nancy is inviting her friends over for some friendly farm games to celebrate the 20 years since she bought her home. Before the games commence, everyone sits down to a lunch of Beer-Braised Beef, Garlic Mashed Potatoes and Buttered Mint Peas, and everyone has an Ice Cream Sundae with Homemade Caramel Sauce and Cookies 'n' Cream
Saturday 10:30a|9:30c
The Kitchen: It's Dad's Day with Rachael Ray
It's Father's Day and the hosts of The Kitchen are honoring dads with a delicious Steak and Egg Burrito. Rachael Ray joins the cast for a special segment called The Kitchen Toolbox: The guys bring their power tools into the kitchen for some fun cooking shortcuts and Rachael shares a few of her own. Then the gang makes hot dogs like you've never seen, and covers three steaks that give big flavor and great value. Marcela Valladolid makes a Chocolate Stout Bundt Cake while the hosts play a boozy edition of Hidden Sweet-crets. Geoffrey Zakarian makes a Negroni, and the others cover last-minute gift ideas for Dad.
Saturday 11a|10c
Guy's Big Bite: General Guy's Chicken
Guy Fieri has lots of memories of cooking for his parents from a young age. As a Father's Day treat, Guy's at it again, this time with a Chinese feast. He's making a couple of classics with his Guy twist: General "Guy's" Chinese Chicken, and veggie-packed Spicy Shrimp and Pineapple Fried Rice. It's a meal any dad will dig!
Sunday 11:30a|10:30c
Guy's Grocery Games: Free Samples
No one can pass up the free samples in the first game, because they must be incorporated into the chefs' Mediterranean dishes! Next up, it's lights out as the chefs dash around the store to make a dessert for the discerning judges before Closing Time. In the final game, it's the luck of the spin, as the last two chefs each make their best dish in Food Wheel.
Sunday 8|7c
Food Network Star: Cutthroat Food Network Star
A Food Network Star must have the knowledge and ability to adapt to any circumstance that arises. In two heats of five, the finalists bid on sabotages to saddle their competitors with, then battle it out in the kitchen, Cutthroat Kitchen style. Alton runs the festivities, and the finalists' dishes are critiqued by Bobby Flay and Chef Jet Tila. The winning finalist in each heat keeps his or her winnings, while the least-successful competitor hits the road.
Sunday 9|8c
Cutthroat Kitchen: Panini, Meeny, Miny Moe
One chef is forced to perform a balancing act while cooking chicken pot pie. A childhood rhyme turns into one chef's nightmare and one chef must spring into action to save his or her cheesecake.
Sunday 10|9c
More posts from Nikhita Mahtani.
Similar Posts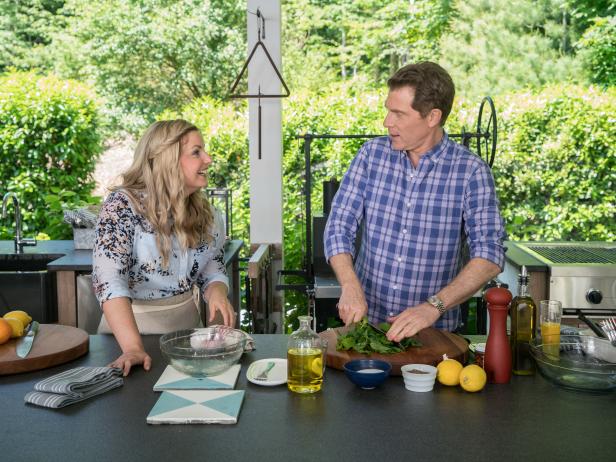 Get the latest details on the all-new series, The Bobby and Damaris Show....