The grill isn't the only kitchen tool that has your back this summer. When the weather's steamy, the air conditioner is humming and flip-flop tan lines stud the sidewalks, there's another device you simply can't live without: your kitchen's freezer. With all its ice-cold power, the freezer transforms simple ingredient combinations into delectable, cooling summer treats. Food Network's roster of fun frozen desserts, from treats scooped into a cone to those licked on a stick or taken by the frosty slice, is as integral to summer as hot dogs and summer camp.
1. Easy Ice-Cold Sandwiches: If what's on your grill is getting all of the attention, don't let your last course fall by the wayside. Involving only some light assembly, Food Network Magazine's Praline Ice Cream Sandwiches (top left) are a safe bet.
2. Juicy Popsicles: Grab those coolers! Giada's adults-only Spiked Watermelon Pops (top right) aren't just hit with vodka, they're also infused with a little fresh mint, meaning you'll feel nice and fresh at your next beach barbecue.
3. Frozen Cakes: On its own, strawberry cheesecake is as summery as it gets — or is it? Tyler builds on the classic recipe with a Frozen Strawberry Cheesecake (bottom right) with strawberry ice cream and real bites of cheesecake on a graham cracker crust.
4. Bright DIY Sherbet: Pureed strawberries ignite buttermilk-based sherbet with flavor, adding even more tang. With a crack of pepper on top, Food Network Magazine's Raspberry Buttermilk Sherbet (bottom left) is different than your typical scoop.
5. Loaded Ice Cream Pops: Those little paper cups you use at the dentist are for more than swishing around water. Mix vanilla ice cream with all kinds of add-ins, load it into the cups and insert a stick for an easy treat ready to be unwrapped. Your dentist probably won't be happy with Ice Cream Freezer Pops, but that's not the point.
6. Freeze Your Pie: Just like strawberry shortcake does well with an ice-cold update, Frozen Key Lime Pie is a thing you should have on your radar. With an easy, creamy filling and a crust that doesn't need to be rolled out, it's one of Ina's favorite summer desserts.
Get more frozen treat recipes from friends and family:
Feed Me Phoebe: Coconut Mojito Popsicles
Dishing With Divya: Strawberry Sherbet
The Lemon Bowl: Vegan Chocolate Peanut Butter Ice Cream (No Machine Required)
Jeanette's Healthy Living: Healthy Fruit Punch Popsicles
Virtually Homemade: Minty Pina Colada Popsicles
Weelicious: Fruity Lemonade Ice Pops
Napa Farmhouse 1885: Chai Green Tea Popsicles
Red or Green: Spiced Rooibos Tea Popsicles
Dishin & Dishes: Heath Bar Crunch Ice Cream
Elephants and the Coconut Trees: Homemade Eggless Vanilla Ice Cream (No Machine Required)
Domesticate Me: Slutty Brownie Ice Cream Sandwiches
Devour: 5 Frozen Finales
Poet in the Pantry: Peanut Butter Ice Cream
Swing Eats: Grapefruit, Pineapple, Basil and Coconut Milk Gelato
Daily*Dishin: Dark Chocolate Sorbet
Cooking With Elise: Frozen Blueberry Treats
FN Dish: 6 Reasons to Brave Brain Freeze
For a savory frozen treat:
Taste With The Eyes: Frozen Alaskan Cod, Mediterranean-Style
More posts from Allison Milam.
Similar Posts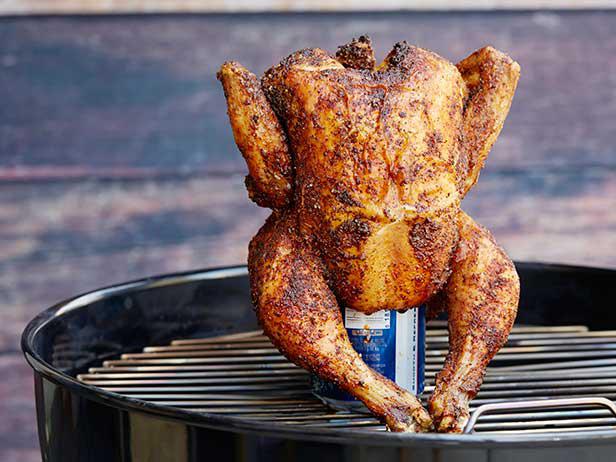 This clever grilling technique is easy enough to perfect even on your first try making it....