Along with longer days and warmer nights, late spring and early summer ushers in an abundance of ultra-fresh produce. From tart rhubarb and sweet strawberries to colorful squash and bell peppers, there's no shortage of fruits and vegetables during these warm months, and one of the best, most-versatile items to enjoy is a bright, ripe tomato. Simple pastas and salads are classic picks for putting the tomato to work, but these juicy bites can go beyond the basics as well, as The Kitchen co-hosts showed off this morning with their takes on stuffed tomatoes. Read on below to get 15 ideas and recipes for taking tomatoes to the next level, and learn how to celebrate these beauties all summer long.
1. Perhaps the most-traditional use for tomatoes, a pasta-ready sauce is a must-have in every recipe arsenal. Master Alton's Tomato Sauce recipe this summer, and keep coming back to it when you need a satisfying meal. He starts off by baking the tomatoes to add a subtle sweetness to the sauce, then processes them through a food mill to achieve a smooth texture.
2. Just like pasta sauce, salsa is also a no-fail way to put tomatoes to work. Instead of picking up jarred salsa, try Marcela's speedy homemade version instead. Her Roasted Tomato Salsa is made with just a handful of ingredients, and it features a single serrano chile, which offers manageable heat.
3. Whether you need a last-minute potluck addition or an elegant appetizer, The Pioneer Woman's party-perfect Bruschetta (pictured above) is a timeless favorite, made with colorful grape tomatoes and a splash of balsamic.
4. From cookouts and picnics to everyday dinners at home, you can't have enough side salads, and this Fresh Corn Tomato Salad combines two of the season's freshest picks to create a vibrant dish in a hurry.
5. Instead of warming up with a hot bowl of soup, cool off with a bowl of Alton's chilled Gazpacho this summer. His easy-to-make recipe (pictured above) is flavored with tangy balsamic and Worcestershire sauce.
6. Follow The Kitchen co-hosts' leads and stuff tomatoes to make a meal out of them. Food Network Magazine opts for a meaty filling of sausage in its big-batch recipe.
7. Not all pestos focus on fresh basil; Giada's fuss-free pesto lets sun-dried tomatoes shine, and it's ready to eat in only 25 minutes.
8. Tomatoes and mozzarella are simply better together, which is why caprese-style dishes are such a hit. Stick with Rachael's classic take on a salad, or turn the ingredients into Melissa's fuss-free tartlets.
9. For a departure from traditional sweet pies, Food Network Magazine has created an Heirloom Tomato Pie, featuring a cheesy crust and a savory filling of herb-laced heirlooms.
10. Just as you'd turn strawberries and peaches into jelly, reach for tomatoes to do the same. Food Network Magazine's Spicy Tomato Jam (pictured above) is rounded out with warm spices like cumin, cinnamon and cloves.
11. When it comes to fried tomatoes, look out for the green variety. They're naturally firmer and less juicy, so they don't become soggy in the oil.
12. Just like the bottled stuff but fresher, this Homemade Ketchup is surprisingly simple to prepare. Start with the traditional flavor, or dress it up with curry or chipotle chiles. 
13. A quick-fix tomato relish, like the one served atop Bobby's easy grilled salmon, is all it takes to transform everyday meats and seafood. 
14. Think beyond oranges, grapefruits and apples, and try juicing tomatoes. Food Network Kitchen combines them with kale and parsley for a speedy green glass. 
15. When the summer's winding down, save a bit of the season for later in the year by canning tomatoes. Follow this step-by-step guide to peeling and stewing tomatoes, then cleaning jars to ensure a deliciously safe finished product.
More posts from Maria Russo.
Similar Posts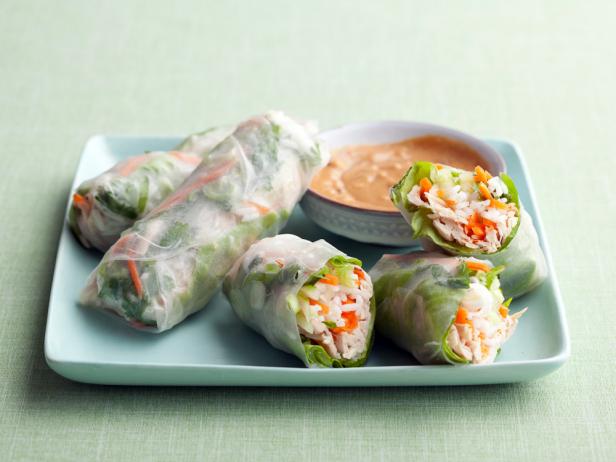 Once you start seeing heat waves outside, it's hard to even think about standing over a hot stove or oven. On those days, try turning to no-cook recip...