Whether you're planning a Cinco de Mayo party or you simply want some foolproof Mexican recipes, tune in to Food Network this weekend for a bit of both. Nancy Fuller, Damaris Phillips, Guy Fieri and the co-hosts of The Kitchen are all cooking Mexican dishes. Bobby Flay even stops by The Kitchen, as does Food Network Magazine's editor, Maile Carpenter. Also tune in for three hours of competition Sunday night, starting with a new episode of Food Court Wars, then America's Best Cook and Cutthroat Kitchen. It's a special brunch challenge on America's Best Cook, which will be judged by guest tastemaker Geoffrey Zakarian.
Farmhouse Rules: "Poker Night with Aunt Jean"
Nancy's Aunt Jean is in town from Las Vegas and has developed a love for Mexican food. Nancy is putting together a small poker night with a Southwestern flair, with Chorizo Quesadillas with Easy Homemade Salsa, Buffalo Mexican Shrimp Skewers and Nancy's Pomegranate Guacamole.
Saturday 10:30a|9:30c
The Kitchen: "Cinco de Mayo with Bobby Flay"
The Kitchen celebrates Cinco de Mayo with a delicious churro bar and tacos with Food Network Magazine Editor-in-Chief Maile Carpenter. Geoffrey heats things up with his fiery Shrimp Fra Diavolo, and Bobby makes an appearance for a Tool Takedown. Geoffrey's flaming lime shots keep the party going while the hosts test their pinata knowledge.
Saturday 11a|10c
Rachael Ray's Week in a Day: "Roll It on Over"
Rachael Ray has two versatile mini recipes that you can roll over into five full-fledged suppers. The first rollover recipe is Buttermilk Ranch Brined Turkey, which Rachael uses in three of the five meals: Dish one is Turkey and Corn Chowder with Bacon and Chipotle, dish two is Pilgrim Casserole layered with Thanksgiving favorites, and dish three is Turkey and Poblano Red Eye Stew. The other rollover is a Beef and Tomato Base, which is the foundation for dish four, Beef Picadillo, and dish five is Beef, Bacon and Onion Sauce with Bucatini.
Sunday 8a|7c
Southern at Heart: "Taco Tuesday"
Inspired by a margarita at one of her favorite bars, Damaris invites the mixologist back to the kitchen with Mexican food on the brain. On the menu: easy-to-make spicy, homemade "Fauxrizo" Taco Filling, Coconut Lime Black Beans and to finish the plate off, a simple, aromatic Jicama and Cilantro Creme Fraiche Slaw. Damaris' fiery menu is cooled down with a blackberry and sage "Heart of Darkness" Margarita.
Sunday 10a|9c
Giada at Home: "Spice of Life"
Giada De Laurentiis turns up the heat in the kitchen as she creates hot and fiery recipes from around the globe: Vietnamese Red Snapper with Noodles, Vegetable Paella, Spiced Beef Kebabs with Cucumber-Yogurt Sauce and Moroccan Chocolate Mousse.
Sunday 10:30a|9:30c
Guy's Big Bite: "Comfort with a Kick"
Today Guy's taking American comfort food and mixing in a little Mexican flavor, starting off with his Mexicana Meatloaf, filled with mild peppers, black beans and corn, served with Cilantro Pesto. On the side, Spicy Polenta Cakes topped with honey and lime — so money! To cut the heat, a cool and refreshing Hibiscus Margarita.
Sunday 11:30a|10:30c
Food Court Wars: "Sabor de San Miguel vs. Ramen Bar"
Brother and sister Juliano and Noris dream of taking their Guatemalan family recipes to a wider market. Best friends Holly and David hope their concept, Ramen Bar, will allow them to follow their dreams of owning a restaurant. Only one team can win a spot in the Newark, Calif., food court.
Sunday 8|7c
America's Best Cook: "Mentor Meltdown"
This week, the cooks face the hottest food trend, brunch, and their most-intimidating judge yet, Iron Chef Geoffrey. One of the mentors has a very strong reaction when a cook ignores a direction during the challenge.
Sunday 9|8c
Cutthroat Kitchen: "Ladel-ayheehoo"
Serving ladles become one chef's cooking vessels to cook French onion soup. The Cutthroat Kitchen Wheel of Heat makes its debut for a blackened fish challenge, and one chef's bananas are pulverized to a pulp for a banana split.
Sunday 10|9c
More posts from Joseph Erdos.
Similar Posts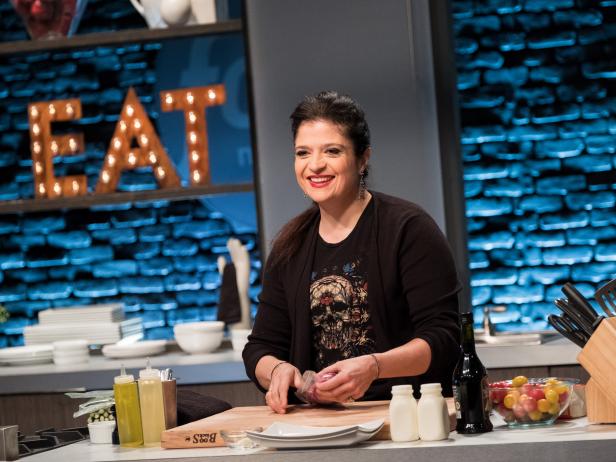 Get all the details on the upcoming premieres this weekend on Food Network....