Trisha Yearwood entertains family and friends in her backyard all summer long. The Grammy winner is a pro at making big-batch recipes that will feed a hungry crowd. From ribs to chicken, follow her easy solutions for summer recipes that'll be sure to satisfy your group.
1. Barbecued Pork Ribs
Marinate 5 pounds of pork ribs in a large, turkey-sized baking bag or sealable plastic bag in the refrigerator for a few hours, turning the bag occasionally to thoroughly coat the meat. Bake them for 2 hours and then brush both sides with a quick homemade barbecue sauce: ketchup, chili sauce, brown sugar and dry mustard. Just before serving, throw the ribs under the broiler to give them a bit of a char.
2. Zucchini Saute
Make the most of in-season zucchini with Trisha's summer side dish that's ready in just 25 minutes. Saute garlic in olive oil before adding sliced squash, salt and pepper. Cook until the squash is tender but still slightly crisp, then transfer to a serving dish and sprinkle with Parmesan cheese.
3. Barbecued Chicken
Trisha soaks her chicken in a salt brine for a few hours to make it tenderer and leave the salt flavor in the meat. She uses her Dad's recipe for a vinegar-based sauce that's not thick or heavy, but just has a really good flavor (add as much or as little hot sauce as you wish). After draining the chicken, pat it dry and place the halves on the grill, skin-side up. Baste with the sauce and cook for 30 minutes before turning. Top with more sauce and continue to grill, turning and basting the chicken every 10 minutes. Check for doneness by twisting a drumstick; it should move easily.
4. Summer in a Cup
No party is complete without a signature summer cocktail. Trisha's quick drink combines pineapple juice, banana liqueur, coconut rum, fruit punch and orange juice in a gallon pitcher filled with ice. Simply pour the mixture into glasses and garnish with slices of orange and pineapple.
More posts from Cameron Curtis.
Similar Posts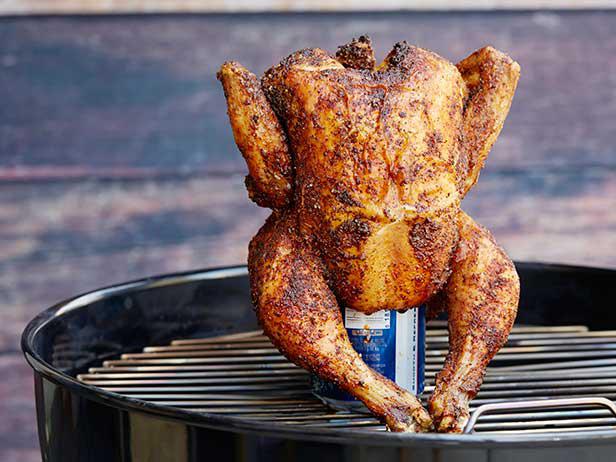 This clever grilling technique is easy enough to perfect even on your first try making it....