If there is any one point that marks the beginning of the backyard barbecue season, it has to be Memorial Day. The official start of summer may be the solstice on June 21, but summer really starts Memorial Day weekend. It's the kickoff of afternoons spent tending burgers and ribs on the grill, enjoying lazy picnics in the park — before it gets too hot — and supper under the stars. Food just tastes better when served outdoors on a beautiful evening. Our senses are alive and we are more engaged. On my deck I have the very same picnic table my mother's family used when I was a child. It essentially serves as our dining room table in the spring and early summer. Dining alfresco is one of the true joys of the season. Add a slab of ribs and you've got summer front and center.
Dining on the deck certainly presents fewer demands than carting coolers to the park. The menu is key to the venue in regard to outdoor dining. A little bit of forethought will make a huge difference — check out my essential picnic tips before you pack up and head outside.
To get to the meat of the matter, I'm suggesting spareribs for this Memorial Day feast. While I can be partial to baby back ribs for their quick-cooking ability, spareribs are, well, rib-sticking good. And, as they are from the belly of the hog and are thick and meaty, one 3- to 3 1/2-pound rack will serve two or three people, as opposed to a rack of baby back ribs, which will serve one or two people.
As you wander the Internet you will read some recipes suggesting that you boil the ribs before finishing them on the grill. Do NOT do this. Seriously, do NOT do this. All you would be doing is making pork stock and bland ribs. Who wants to drink pork stock for their Memorial Day picnic feast? Low and slow BBQ grilling is the way to go. Never, ever, ever boil the meat. (If you are grill-less, you can prepare these ribs in the oven, but simply cook low and slow inside.) You should be looking at 250 degrees F, for around 3 hours, depending on the thickness and size of your ribs. Then, start with a dry rub and finish with a sauce. If you apply the sauce too soon, the sauce will burn. The meat should be almost finished before a swab of sauce is applied. Lastly, "falling off the bone" means overcooked, in my book. Falling off the bone is what you want in a short rib, not a sparerib.
Bon Appétit, Y'all!
Get the Recipe: Sweet Heat BBQ Ribs
Georgia-born, French-trained Chef Virginia Willis has cooked lapin Normandie with Julia Child in France, prepared lunch for President Clinton and harvested capers in the shadow of a smoldering volcano in Sicily, but it all started in her grandmother's country kitchen. A Southern food authority, she is the author of Bon Appétit, Y'all and Basic to Brilliant, Y'all, among others. Follow her continuing exploits at VirginiaWillis.com.
More posts from Virginia Willis.
Similar Posts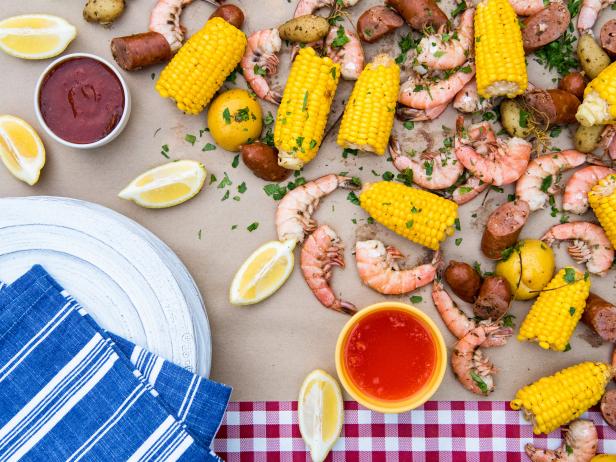 Have friends over — or embrace leftovers — with these Food Network recipes that feed more than four. ...