Farmers markets are starting to see more and more produce as the summer season takes off and the weather heats up. From tomatoes to corn and all kinds of summer squash, put these ingredients to use while they're in their prime.
1. Tomatoes
Starting in May and running through September (and even later for some parts of the country), tomatoes will be bursting with flavor. With varieties ranging from tiny and sweet cherry tomatoes to misshapen and colorful heirloom tomatoes, they can be used in a variety of different recipes. Ina Garten uses vine-ripened tomatoes plus chopped, fresh basil leaves to make a Cream of Fresh Tomato Soup that you'll want to can and eat year-round.
2. Corn
From June through August, corn kernels will taste like candy. While corn on the cob is great when cooked directly on the grill, in its husk or wrapped in foil, sliced off kernels can turn into a tasty side dish. Sunny Anderson's Summer Corn Salad features grilled corn kernels combined with grilled endive pieces, red onion and crumbled feta cheese. Serve the finished dish warm or at room temperature.
3. Zucchini and Summer Squash
The star of the summer squash family is definitely zucchini but crookneck squash, pattypan squash and even yellow zucchini are all great to toss on the grill. Giada De Laurentiis makes a marinade of vinegar, lemon juice, garlic, thyme and oil, then coats zucchini and yellow squash before grilling the vegetables until they are crisp-tender and brown.
More posts from Cameron Curtis.
Similar Posts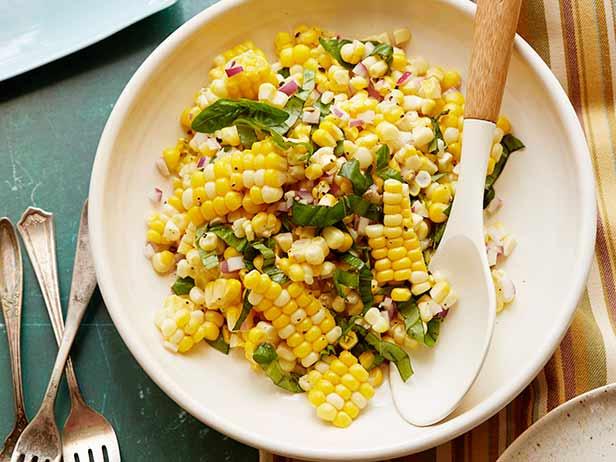 Think beyond the usual presentation of corn with butter and salt....