On a lazy weekend morning, whether you set an alarm or not, what better way to wake up than with melted cheese stringing from a pan to your plate? FN Dish is down for cheesy dishes all day long, but some of our favorite cheesy sides are a match made in heaven for eggs, sausage, toast and more. Especially with these recipes on your plate, you can bet a weekend brunch featuring cheesy sides is in the works.
Peeling and shredding potatoes can be a process, especially when you wake up hungry. Buy frozen hash brown potatoes — pre-peeled and shredded — to satisfy a last-minute potato craving. Easy Cheesy Potato and Sharp Cheddar Hash is so crispy and good that you won't need ketchup.
This Southern staple is made that much better when a cheesy trinity is involved: Food Network Magazine's Bruleed Cheese Grits are rich with a blend of cheddar, Gruyere and gouda. Placing the grits in the broiler at the very end leaves the cheesy top nice and bubbly.
For a different take on cheesy grits, Trisha's Garlic Grits Casserole blends in creamy, garlicky Boursin cheese and adds crunch to the top with corn flakes. Like a dollop of mashed potatoes at dinnertime, this side dish brings serious savory comfort to your brunch menu.
Wake up to freshly baked biscuits with Food Network Magazine's Bacon-Cheese Biscuits (pictured above) — they're the ideal side act, especially in between bites of scrambled eggs.
Though a classic strata is considered a one-dish wonder during the breakfast and brunch hour, downsizing the portions means you can enjoy all that and more. Food Network Magazine's south-of-the-border Cheesy Chile Strata is layered with corn tortillas, Mexican cheese and poblano chiles, and is always best with sour cream, jalapenos and cilantro. Whether you treat it as a main or as a side dish is up to you.
Get more cheesy side dish recipes from friends and family:
Weelicious: Mexican Rice Balls
Jeanette's Healthy Living: Cheesy Cheddar Mashed Cauliflower Potatoes
Feed Me Phoebe: Sausage, Pepper and Onion Frittata
Cooking With Elise: Parmesan Noodle Bake
Big Girls, Small Kitchen: Grilled Cheese with Spicy Pickles, Pepper Jack and Garlic Aioli
Napa Farmhouse 1885: Cheese and Grilled Vegetable Quesadillas
Red or Green: Cheddar Cheese and Red Chile Potato Soup
Virtually Homemade: Grilled Asparagus with Tomato Salad and Goat Cheese
Domesticate Me: Parmesan Quinoa Risotto with Roasted Asparagus and Sun-Dried Tomatoes
The Sensitive Epicure: Easy Cheesy Puffs (Gluten-Free)
Dishin & Dishes: Baked Herbed Ricotta Spread
Taste With The Eyes: Shrimp, Haricots Verts and Garbanzo Beans with Feta
Devour: 5 Mozzarella Ideas
More posts from Allison Milam.
Similar Posts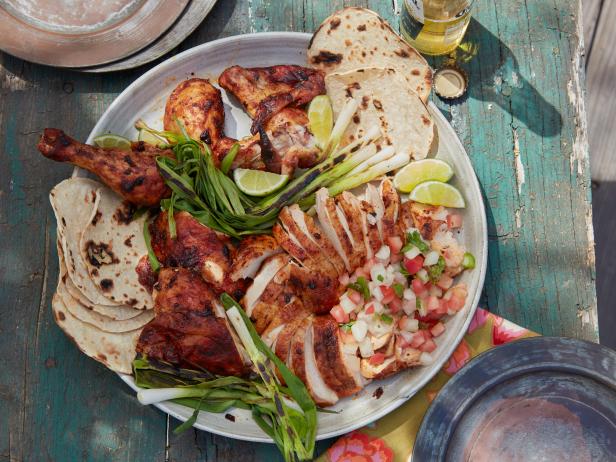 A little preparation means you can enjoy cookouts as much as your guests....