Endlessly versatile and guaranteed to please even the pickiest eaters, chicken is a family-friendly staple. It's a blank canvas that absorbs flavor quickly and easily, and it pairs well with myriad ingredients, especially the Italian-inspired tastes of tomato sauce and creamy mozzarella cheese, which, when combined, create classic chicken Parmesan. While you may be used to indulging in this hearty dish at local restaurants, it's surely possible to replicate it in your own kitchen; the secret lies in the steps. Once your sauce is ready and the chicken golden brown and crispy, finish it with tomatoes and add a layer of cheese for over-the-top decadence. Check out Food Network's best-five recipes for chicken Parmesan below to find top-rated takes on this timeless dinner from Bobby, Giada, Tyler and more chefs.
5. Chicken Parmesan — This better-for-you recipe uses lean boneless, skinless chicken breasts and whole-wheat breadcrumbs to achieve lighter results, but it maintains a traditional flavor thanks to the addition of tried-and-true marinara sauce and a duo of cheeses.
4. Skillet Chicken Parmesan — Save time — and effort when cleaning up — in the kitchen by preparing both the juicy chicken and garlic-laced tomato sauce in a single pan, then finish them under the broiler to melt the cheesy topping.
3. Bobby's Chicken Parmesan — Bobby guarantees chicken with a deliciously crispy exterior and a tender inside by cooking it in a two-part process: He pan-fries the meat so it takes on a colorful coating, then he finishes it in the oven with tomato sauce so it turns out moist.
2. Giada's Chicken Parmesan — The key to Giada's easy-to-make supper is her Simple Tomato Sauce, featuring a base of garlic, onions, carrot and celery. She purees the mixture until it's smooth before adding it to the chicken.
1. Tyler's Chicken Parmesan — For the ultimate Italian-inspired meal (pictured above), Tyler rounds out his dish of breadcrumb-coated chicken and olive-studded tomato sauce with a helping of spaghetti. Click the play button on the video below to watch him make it.
More posts from Maria Russo.
Similar Posts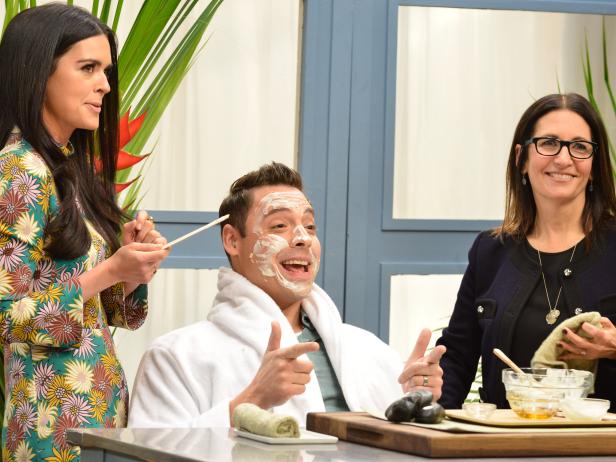 You don't have to travel somewhere exotic to make the most of your time off....