It's no secret that chicken breasts are perhaps the ultimate ingredient workhorses: They do double duty between lunch and dinner, afford themselves to easily reheated leftovers, stand up to nearly every cooking style and pair well with the flavors of countless cuisines. Because this culinary superstar is so versatile, it's a blank canvas that can be customized to your family's favorite tastes and whatever ingredients you happen to have on hand. But chicken breasts are also easy to deem bland, which is why it's important to dress them up so they take on the bold flavors of marinades, spice rubs, sauces and toppings. Check out Food Network's top-five chicken breast dishes below to find classic and creative picks from Guy, Ina, Bobby, Melissa and Rachael.
5. Chicken Breasts with Feta and Sun-Dried Tomatoes and Kalamata Olives — Guy makes a pocket within each of his chicken breasts and stuffs them with Mediterranean-inspired flavors before finishing them with a lemon-sun-dried tomato sauce and crumbled feta cheese.
4. Lemon Chicken Breasts — With a five-star rating and more than 500 user reviews, Ina's fail-proof chicken is baked in a succulent mixture of lemon juice, white wine and herbs. Perhaps best of all, it's a good-for-you meal that can be ready to eat in only one hour.
3. Grilled Chicken Cordon Bleu — Featuring a base of tender grilled meat and toppings of soft cheese, prosciutto and peppery arugula, Bobby's deconstructed cordon bleu is a next-level take on the traditional favorite.
2. Simply Grilled Chicken Breasts — Melissa grills her go-to chicken breasts with garlic oil and serves them with a sweet tomato-onion sauce laced with thyme.
1. Spinach-and-Mushroom-Stuffed Chicken Breasts — In only 35 minutes, Rachael turns out an elegant-looking meal (pictured above) that's deceptively simple to prepare. Her secret to easy rolling is starting with pounded-thin meat and securing the chicken with toothpicks before cooking so the filling doesn't seep out. Click the play button on the video below to watch her make it.
More posts from Maria Russo.
Similar Posts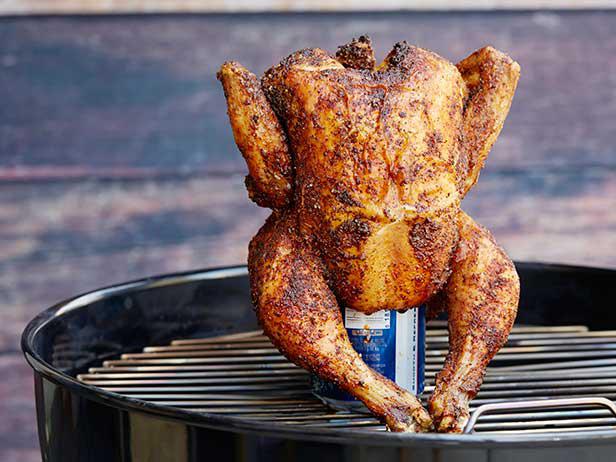 This clever grilling technique is easy enough to perfect even on your first try making it....