On America's Best Cook, Sundays at 9|8c, home cooks battle it out for the chance to win the title of America's best cook, all while representing their specific region of the United States. The cooks are split into teams from the North, South, West and East. Each of these regions has its characteristic foods that make up an integral part of its identity. To celebrate the new competition show, each week during the season, FN Dish has the top 10 reader-recommended eats from one of the regions. This week it's all about the West.
If you were to characterize the West in just two words, they would be "fresh" and "bold" — and you can apply those words to everything from the local ingredients to the cuisines, including the Latin-inspired dishes and American Indian foods of the Southwest. But the West is also well known for its fusion foods, one of the most popular being California cuisine, which was made famous by Chef Wolfgang Puck. Look no further for Asian-inspired pizzas, burgers or tacos. Among all the regions, the West is one of the most diverse in its offerings. Pick any city or town on the West Coast to find flavors from all across the nation and even around the world, all in one square mile or even in one single restaurant.
Take a look at the top 10 reader-recommended eats, in no particular order, from Food Network On the Road and vote in the Regional Foods Face-Off, the show's bracket challenge, to make your favorite regional food known.
The Country Cat — Portland, Ore.
If you're craving some Southern food in the Northwest, look no further than the Country Cat, which serves up dishes with Southern roots, like the signature Whole Hog plate, which has everything from snout to tail. The Cast-Iron Skillet Fried Chicken is also a must-try.
Slim's Last Chance Chili Shack & Watering Hole — Seattle
This roadhouse restaurant offers all kinds of chili, including a special smoked pork Chili Verde served over jalapeno mac and cheese. If you lean more toward tradition, then try the Texas Red, which has a nice mild heat. The turkey chili is also a customer favorite.
Blue Water Seafood Market & Grill — San Diego
The two brothers who run this market and eatery in San Diego serve only seafood. Try the fresh sea bass taco with lemon garlic butter, or for something more comforting with a kick, try the Classic Cioppino Plate made with mussels, clams, scallops, shrimp and red snapper. The clam chowder is also worth a try.
Gloria's Cafe — Los Angeles
Since 1981 Gloria Flores has been sharing her traditional El Salvadoran cooking to adoring L.A. locals. You won't want to leave without trying the Carne Adobada, a pork stew with a rich tomato sauce. Also try the stuffed tortillas or the Seven Seas soup brimming with crab legs and shrimp.
Tocabe American Indian Eatery — Denver
For a taste of the Southwest, visit Tocabe, which offers a modern interpretation of American Indian food to lucky Denver locals. Try the hominy salsa, the fry bread, bison ribs and Indian tacos.
Matt's Big Breakfast — Phoenix
Matt's Big Breakfast serves breakfast all day long. Try The Chop & Chick, which is a giant Iowa pork rib chop marinated in tango pesto and served with two eggs. It's possibly the closest thing to green eggs and ham. The waffles are also a must-try.
Cecilia's Cafe — Albuquerque, N.M.
If you order chicharrones from Cecilia's Cafe, don't expect fried pork skins. Cecilia's chicharrones are hunks of stewed pork layered inside a warm tortilla with cheese and green chile sauce. If you're still hungry, try the sopaipillas stuffed with shredded chicken, or order the huevos rancheros, enchiladas or breakfast burrito.
Bachi Burger — Las Vegas
This Las Vegas burger joint is serving big American burgers with an Asian twist. Try The "Banh-Mi" Burger, which is made with beef, pork and shrimp. Also look for the Oxtail Chili Cheese Fries.
Red Iguana — Salt Lake City
The Cardenas family has been serving Mexican food 365 days a year since 1965. While their extensive menu offers everything from cochinita pibil to enchiladas suizas, the collection of mouthwatering moles (seven in total) is the signature showcase and a tribute to Mexico's national dish.
Rainbow Drive-In — Honolulu
At Rainbow Drive-In in Honolulu, a 50-year-old institution, the burgers and hot dogs come with rice and macaroni salad or slaw for a truly Hawaiian twist on the American favorite.
Get the Cioppino recipe pictured above.
Get more recommended eats from Food Network's On the Road, and download the On the Road app for your mobile device to get recommended restaurants anywhere you go.
More posts from Joseph Erdos.
Similar Posts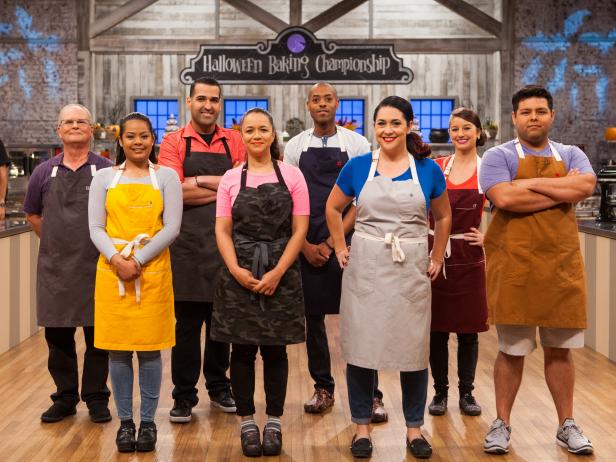 Get the details on the all-new season of Halloween Baking Championship, premiering on Sunday, Sept. 25 at 9|8c....