When it comes to growing your kiddos into the best eaters they can be, it's all about baby steps. And, if you're asking us, your side dishes are perhaps the best place to start. With sides come the veggies, the strange textures and the other tough sells. But don't you fret. These winning kid-friendly sides expose your little ones to new tastes without throwing the baby out with the bathwater. That way, your kids will go from full-on picky eaters to budding food connoisseurs in no time.
Little morsels of toasted orzo are so easy to eat, your kids won't even realize all of the big-kid, Mediterranean ingredients they're devouring. Rest assured that the "big kids" (cough, cough) will love Toasted Orzo Salad (pictured above) on their plates too.
Green-as-can-be zucchini probably isn't your kid's go-to move, but zucchini reimagined as a pirate ship? That's a whole different story. Complete with a skewer mast, Marcela's Zucchini and Corn Pirate Boats are perfect for cooking with the kids.
Your kids may have already caught on to the fries-dunked-in-ketchup thing, but have they gone for Sweet Potato Fries yet? Introduce them to the fairer potato — which comes with fewer calories and carbs, more fiber and loads of vitamins — with the help of this familiar presentation. If you have only white potatoes on hand, Spiced Oven-Fried Potatoes by Food Network Magazine don't play it overly safe, either.
At face value, your kids probably don't like broccoli, and they likely don't dig capers either. But Food Network Magazine's Charred Broccoli with Capers is a flavor powerhouse: briny and totally crunchy.
Super-Stuffed Baked Potatoes by Food Network Magazine won't be hard to sell, but this particular recipe sneaks in a secret ingredient: cauliflower. It's pureed until nice and creamy, and your kids won't even realize where the flavor they're loving is coming from.
Standard mashed potatoes may be any kid's comfort food, but Food Network Magazine's Smashed Pesto Potatoes give them a little nudge toward some new ingredients, like herby pesto and ricotta.
Get more kid-friendly side dishes from friends and family:
Feed Me Phoebe: Mushy Pea Toasts with Mint
Jeanette's Healthy Living: Roasted Asparagus with Parmesan Crust
Big Girls, Small Kitchen: Chocolate Milk with Homemade Chocolate Syrup
Bacon and Souffle: Kid-Friendly No-Boil Quick and Easy Mac and Cheese
Weelicious: Italian Asparagus Sticks
Devour: 5 Kid-Friendly Cupcakes
Cooking With Elise: 6 Kid-Friendly Sensational Sides
Dishin & Dishes: Mini Carrot Cake Cookie Cups
Napa Farmhouse 1885: Cream of Mushroom Soup (for Zola)
Red or Green: Busy Mom's Chicken Tacos
Domesticate Me: Cheesy Baked Penne with Chicken and Broccoli
The Sensitive Epicure: PB&J and Apples Rice Paper Roll-Up (Gluten-Free)
More posts from Allison Milam.
Similar Posts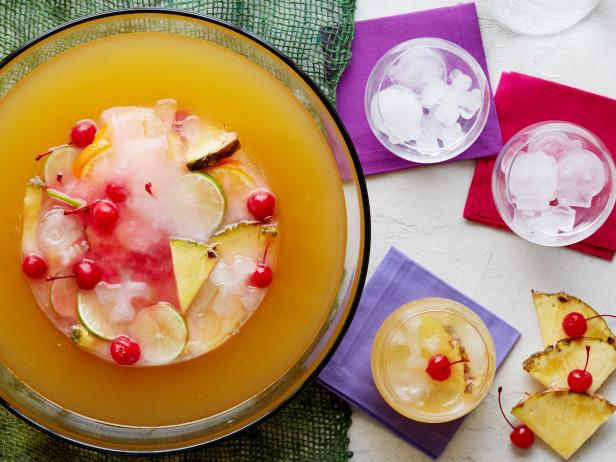 From formal events to backyard barbecues, punch is a party favorite for the ages....