In Houston, the dangerously dirty kitchen at gratifi kitchen + bar was just one of the major issues with which Robert Irvine was to contend during his latest Restaurant: Impossible mission. The eatery's owner, Kevin Strickland, was notably arrogant and struggled to work well with his employees — and Robert. It took the Restaurant: Impossible team two days and $10,000 to overhaul gratifi kitchen + bar and transform Kevin's brashness before they would ultimate relaunch the business. FN Dish has the first exclusive interview with Kevin since filming wrapped; read on below to hear from him and find out how gratifi is doing today.
"Most customers, whether new or old, think it is fantastic," Kevin says of the interior overhaul on gratifi. He and his employees are pleased with the update as well, he says, adding of staff, "They see that it is a much nicer restaurant and they dress appropriately for it." He adds, "The bar is 10 times better. It's not only beautiful but now functions like a real bar."
The reaction to gratifi's new menu has been favorable as well, according to Kevin. "The tuna nachos are a surprise hit," he reports. He admits that Robert's menu is more appropriate for the business, but he's "already tweaked it some" since reopening. "I will likely drop a couple of items and have plans to add two or three new items. Menus should change over time anyway, so it's OK," he explains. "I consider this menu a starting point, not an end point. I already have plans for new menu items to represent Houston's very diverse food culture." Kevin adds that "the new menu is very well priced for the food we are now making," and he says that there've been "absolutely no comments about the higher prices."
In terms of kitchen sanitation, Kevin notes that his kitchen employees "are 100 percent on board with the new way of doing things."
Now that Robert has left, Kevin says, "I am more direct with my staff. I nip problems in the bud before they have a chance to fester." He adds, in terms of his state of mind, "Rather than the stress generated by those three dysfunctional people, it's now been replaced by the stress to keep the current staff motivated, trained, on point."
"I'm over-the-moon happy with the renovation," Kevin notes, looking back on his Restaurant: Impossible transformation.
More from Restaurant Revisited:
Mama Della's N.Y. City Pizzeria (March 26)
Pasión Latin Fusion (March 19)
Tootie's Texas BBQ (March 12)
Mill Creek BBQ Restaurant (March 5)
Estrada's Restaurant (February 5)
Hillbillies Restaurant (January 29)
Spunky Monkey Bar and Grill (January 15)
Heather's Country Kitchen (January 1)
Goombazz Big City Eatzz (December 18)
LBI Pancake House (December 8)
Ship Bottom Volunteer Fire Company (December 8)
Mike La Susa's Italian Restaurant (December 4)
Seven (November 27)
Georgia Boy Cafe (November 20)
Coach Lamp Restaurant & Pub (November 13)
The Windsor 75 (November 6)
Ducky's Family Restaurant (October 30)
Mama Campisi's Restaurant (October 23)
Aponte's Pizzeria (August 25)
Benner Street (July 28)
Hurley's American Grille (July 21)
Kalico Kitchen (July 14)
Angelo's (June 23)
Pier West Restaurant (June 16)
Pinehurst Country Lodge (June 9)
Bryan's Smokehouse (May 26)
Wagon Wheel Family Restaurant (May 19)
Mom & Dad's Italian Restaurant (May 12)
More posts from Maria Russo.
Similar Posts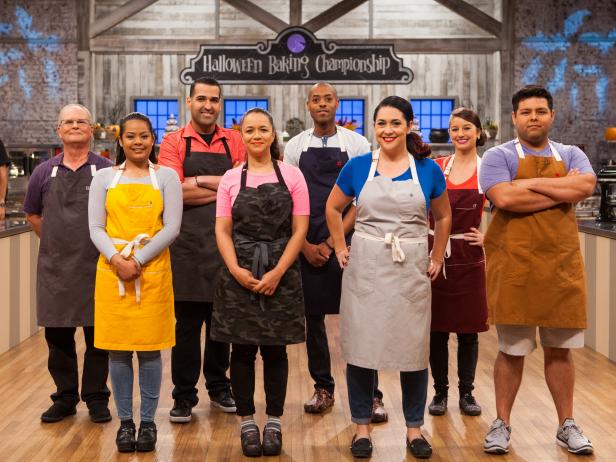 Get the details on the all-new season of Halloween Baking Championship, premiering on Sunday, Sept. 25 at 9|8c....