"On a scale of one to 10 of disgusting, this is a 12," Robert Irvine said not long after arriving at Bryant's Seafood World in Hueytown, Ala. The decades-old fish house is known for its deliciously authentic hushpuppies, but what Robert found was underseasoned food, a grimy interior and a kitchen with off-the-chart levels of bacteria — not to mention Gail Cox, the owner who had little will to continue in the business. With just two days to work and a budget of only $10,000, Robert and his Restaurant: Impossible staff overhauled the menu and design at Bryant's, and taught both Gail and her employees the importance of dedication to the eatery. Read on below for an exclusive interview with Gail to find out how her restaurant is doing today.
"Comparing January 2014 versus February 2014, business increased 32.3 percent," Gail said, adding that she and diners have been wowed by the updated interior at Bryant's. "The top-three things working well for us include cutting down the cashier counter to give additional access to that area (which really helps the flow of the servers), adding a hostess stand (which gives us order to the customers waiting to be seated on those weekend busy dinner hours) and removing the carpet."
Gail explained that the updated menu has attracted first-time patrons, and she admitted, "Customers loved the Shrimp and Grits dish instantly."
In terms of staff contribution, employees have begun cleaning the front and back of the house daily, according to Gail. "I've assigned certain tasks to the servers, and it's rotated," she explained. "The staff is working a little harder and appears to really want to do their part to make it work. We are in the process of hiring new staffers so we can stop working so many 'doubles.'"
After learning from Robert during the course of two days, Gail said she knows now how to better manage her staff. "I have to follow through on my requests, and I need them to respect me when I walk in the room."
Gail said she's taking a temporary break from selling Bryant's hushpuppies anywhere but the restaurant. "I have pulled back on continuing the hushpuppies until I can get a better package solely because … Robert and the focus group didn't think the current package was eye-catching," she explained. As for in-house production of the hushpuppies, that process has been improved, thanks to the new mixer. "It has allowed us to make the hushpuppies in larger batches, thereby relieving some of the pressures on the line cooks," according to Gail.
Looking ahead to what's next for Bryant's, Gail explained, "My immediate plans for the restaurant are to continue to grow the business, install a patio out front that will allow customers to dine outside this summer and expand on the bar, making it a fully functional bar with a sink, under-counter cooler, dishwasher and draft beer if possible."
More from Restaurant Revisited:
Urban Roots (April 9)
gratifi kitchen + bar (April 2)
Mama Della's N.Y. City Pizzeria (March 26)
Pasión Latin Fusion (March 19)
Tootie's Texas BBQ (March 12)
Mill Creek BBQ Restaurant (March 5)
Estrada's Restaurant (February 5)
Hillbillies Restaurant (January 29)
Spunky Monkey Bar and Grill (January 15)
Heather's Country Kitchen (January 1)
Goombazz Big City Eatzz (December 18)
LBI Pancake House (December 8)
Ship Bottom Volunteer Fire Company (December 8)
Mike La Susa's Italian Restaurant (December 4)
Seven (November 27)
Georgia Boy Cafe (November 20)
Coach Lamp Restaurant & Pub (November 13)
The Windsor 75 (November 6)
Ducky's Family Restaurant (October 30)
Mama Campisi's Restaurant (October 23)
Aponte's Pizzeria (August 25)
Benner Street (July 28)
Hurley's American Grille (July 21)
Kalico Kitchen (July 14)
Angelo's (June 23)
Pier West Restaurant (June 16)
Pinehurst Country Lodge (June 9)
Bryan's Smokehouse (May 26)
Wagon Wheel Family Restaurant (May 19)
Mom & Dad's Italian Restaurant (May 12)
More posts from Maria Russo.
Similar Posts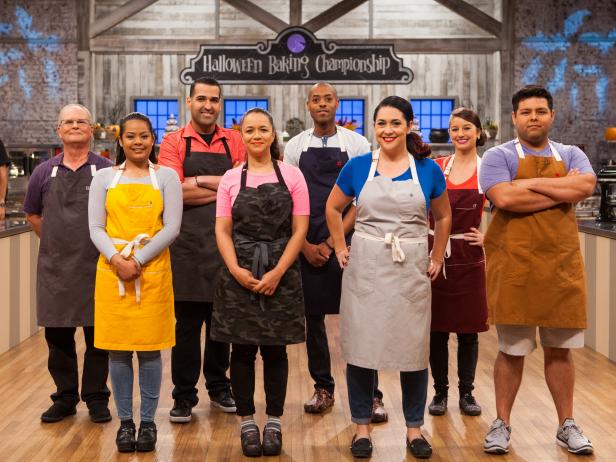 Get the details on the all-new season of Halloween Baking Championship, premiering on Sunday, Sept. 25 at 9|8c....