The babies in your life may be all about mashed veggies, but big kids (including adults) find just as much down-home comfort in them. This week, FN Dish is  zeroing in on this fool-proof technique that works for potatoes and beyond. Feast your eyes on these favorite mashed recipes, each perfect for weeknight eating.
Potatoes are eaten in abundance year-round for a reason. To get in the spring spirit, add market-fresh produce into your mashed potatoes for a different kind of side. Giada's Baked Mashed Potatoes with Peas, Parmesan Cheese and Breadcrumbs, for instance, go in the oven until crispy and golden brown on top. For a different dose of greens, try Giada's Mashed Potatoes with Kale, which  have mascarpone cheese folded in for added creaminess.
Chives, a mellow onion-esque herb now starring in a leading role at your local farmers market, add more than vibrant color. Chop them up and fold into Tyler's Chive and Garlic Mashed Potatoes.
For a loaded appetizer gone side dish, leave the skins on — and fold in some crispy turkey bacon — get Rachael's Mashed Potato Skins (pictured above) from Food Network Magazine.
Believe it or not, corn off the cob does wonders in Marcela's Corn Mashed Potatoes, with each yellow kernel adding extra pop.
And, as the saying goes, if it ain't broke, don't fix it. Classic recipes like Ree's Creamy Mashed Potatoes and Roasted-Garlic Mashed Potatoes aren't going anywhere.
Beyond potatoes, there are so many different veggies made for mashing. Food Network Magazine gives you a whole list, like beets, celery root, carrots and more.
For a dish with the same satisfying potential as mashed potatoes, this top-rated "Mock" Garlic Mashed Potatoes is a welcome substitute. Instead of spuds, boil a head of cauliflower until soft and put it in the food processor with cream cheese and Parmesan for a substantial side with a fraction of the carbs. Or for another departure from potatoes, Ina's Mashed Yellow Turnips with Crispy Shallots come with that added zing innate to turnips.
Get more mashed side recipes from friends and family:
Napa Farmhouse 1885: Broccoli, Leek and Sweet Potato Mash
Red or Green: Spicy Fava Bean Mash
Jeanette's Healthy Living: Cauliflower Mashed Potatoes with Truffle Oil
Weelicious: Vegan Whipped Coconut Sweet Potatoes
Cooking With Elise: Brown Sugar and Spice Banana Bread
Devour: 5 Fresh Takes on Hummus
Virtually Homemade: Smashed Cauliflower Gratin with Goat Cheese
Domesticate Me: Chipotle Mashed Sweet Potatoes with Pomegranate-Pistachio Guacamole
Bacon and Souffle: The Best and Smoothest Hummus
The Sensitive Epicure: Trinxat (Pan-Fried Mashed Potato Cake with Swiss Chard)
FN Dish: More to Mash (Side Dish Recipes)
More posts from Allison Milam.
Similar Posts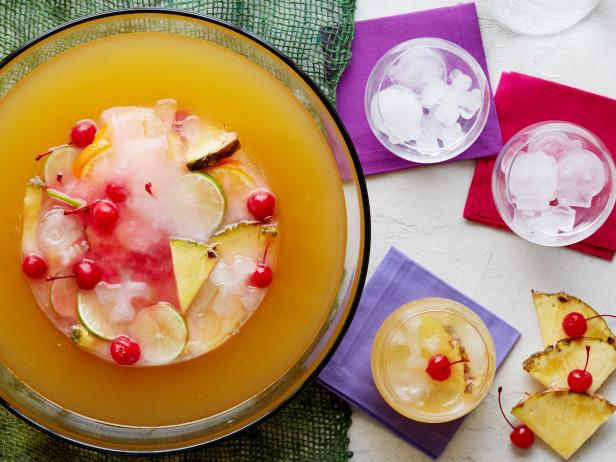 From formal events to backyard barbecues, punch is a party favorite for the ages....