Last night marked the last of this year's Passover Seders. If you're celebrating, that means your first shards of matzo and bowls of matzo ball soup are behind you. But what happens between now and the big break on the eighth day? Zapping matzo pizza in the microwave may hold you over for the first couple days, but it won't be long before you start craving something more. This year, load up on spring veggies and hearty proteins for dynamic, satisfying meals that leave nothing to miss. That way, you can make it till the end without a carb-craving meltdown — or a matzo-induced belly ache.
Matzo may be an integral part of the holiday, but we can't eat Matzo Brei for every meal and hope to feel light and airy. Instead, go for Food Network Magazine's pairing of roasted Salmon with Baby Artichokes for a fresh, clean meal.
Food Network Magazine's low-carb take on the Italian staple isn't just healthy — it's totally Passover friendly. Treat Zucchini "Fettuccine" with Tomato Sauce like regular pasta: Twirl it around your spoon and sprinkle it with Parmesan. But don't be surprised when you hear a crunch.
It wouldn't be a Jewish holiday without a fall-apart brisket on the table. Alex Guarnaschelli's Brisket with Parsnips, Leeks and Green Onions simmers in cider vinegar (which is kosher for Passover, unlike other vinegars) until it reaches soft, bubby-worthy perfection.
Striking enough for your Seder and good enough for leftovers, Food Network Magazine's Roast Turkey with Glazed Vegetables comes out of the oven tender and moist. For chicken lovers, the magazine's Roast Chicken with Spring Vegetables features a crispy skin and loads of seasonal produce.
To add variety, be sure to load up your table with light, dairy-free sides of spring veggies to pair with your meats. From Food Network Magazine, Roasted Carrots with Za'atar and a colorful Warm Beet-Orange Salad are sure to enliven your table. Veggie-packed, kosher-for-Passover Quinoa Salad and Ina Garten's recipe for easy, seasonal Roasted Asparagus are yours for the taking too.
Check out more Passover recipes on FoodNetwork.com.
If you are keeping strictly kosher for Passover or cooking for someone who is, seek out kosher-for-Passover ingredients at the grocery store. Look for a circled U-P symbol next to the Kosher symbol on the package.
More posts from Allison Milam.
Similar Posts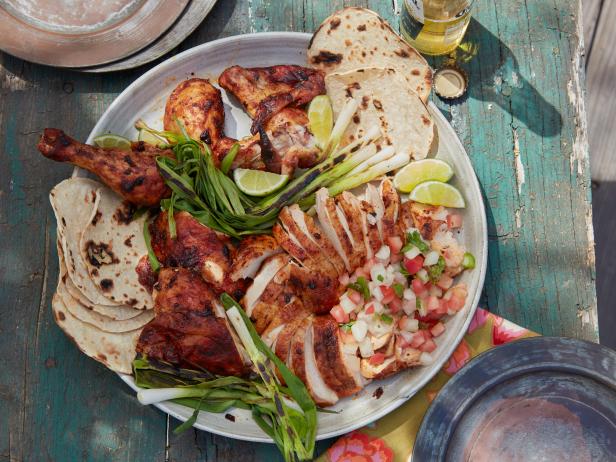 A little preparation means you can enjoy cookouts as much as your guests....