It's one of the few meals out there associated with a sound. The gratifying sizzzzle of a piping-hot skillet loaded with tortilla-ready add-ins signifies the arrival of one of our favorite hands-on dishes: fajitas. Lay out grilled veggies, cheese, pico de gallo and more on the table, and let your guests assemble the taco of their dreams. Along with salt-rimmed margaritas, bowls of guac and more, there is no better headliner for your Cinco de Mayo menu.
Ree Drummond makes it easy to make restaurant-style Chicken and Beef Fajitas with all the fix-ins at home on the grill. Simply follow this step-by-step how-to, or watch Ree grill up fajitas herself.
Prep the Marinade
Give yourself a few hours' lead time for the chicken and beef to soak up this homemade marinade. Using a food processor or blender, mix olive oil, loads of chili powder, Worcestershire, cumin, red pepper flakes and lime juice. After you add just a little sugar, salt and pepper, the marinade is good to go once blended and smooth.
Marinate the Meat
Get the chicken and beef into 2-quart plastic baggies, pour in the marinade and rub it all over the meat till totally covered. Seal the bag and let it all marinade in the fridge for 4 to 6 hours.
Make the Pico de Gallo
While the meat is marinating, spend your downtime preparing pico de gallo, which is always best made fresh at home. Dice tomatoes, jalapenos and onion till very small. Whether you keep the seeds in the jalapeno is up to you and your love for spice. After that, grab a large bunch of cilantro, remove the leaves from the stems and chop. Mix all ingredients in a bowl before squeezing the juice of half a lime and adding salt to taste.
Prepare the Vegetables
Grilled peppers and onions add a rainbow of color and some crunch to your fajitas. Simply toss the veggies in olive oil, salt and pepper before joining them with the meat on the grill.
Kick Up the Grill
Remove the marinated chicken from the plastic bag and place on the grill at high heat until completely cooked through (about 4 minutes on each side). Remove from the grill and let rest on a platter. As for the skirt steak, grill on high heat for just a minute or two on each side. It won't need long, since it's so thin. Lastly, toss veggies in a grill basket so they get the grill flavor without falling through the cracks.
Assemble Your Dream Fajita
After you lay out all the goods, the rest is up to you. Swaddle any combination of beef, chicken, grilled veggies, sour cream, salsa and more in warm flour tortillas.
Check out more Mexican favorites perfect for your Cinco de Mayo fiesta on FoodNetwork.com.
More posts from Allison Milam.
Similar Posts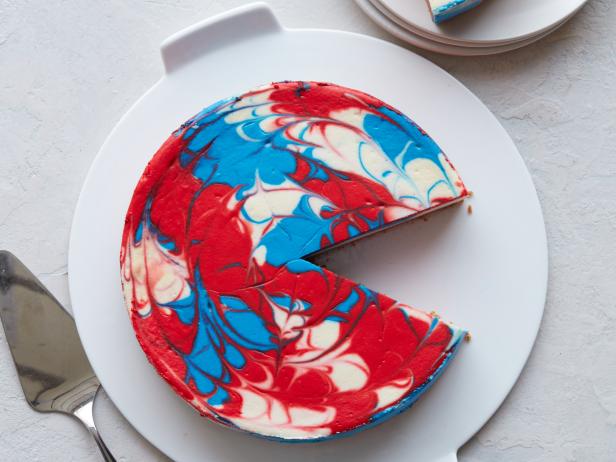 This week, our social feeds were inundated with red, white and blue....