While potato salad may be a staple come summertime cookouts, it's also a go-to way to round out any main dish — no matter what time of year you're cooking. Think of potato salad as you do grilled chicken or a pizza: It's a blank canvas that can be customized to your family's tastes or whatever ingredients you happen to have on hand. Plus, because every potato salad starts with — of course — the humble spud, most recipes are economical and can be stretched when you're cooking for a large group. Check out Food Network's top-five potato salads below to find classic and creative renditions from some of your favorite chefs: Melissa, Ree, Ina, Bobby and Alton.
5. Grilled Potato Salad — It's not too early to roll out your barbecue and start grilling, especially when Melissa's quick-fix potato salad is on the menu. After grilling both red and sweet potatoes, she tosses the spuds in a bold, indulgent dressing made with bacon renderings.
4. Perfect Potato Salad — Sweet pickles and pickle juice add a tart bite to Ree's mashed potato salad, studded with hard-boiled eggs and laced with fresh dill.
3. New Potato Salad — For a mix of taste and texture, Ina opts for both Dijon and whole-grain mustard in her buttermilk-mayonnaise-topped potato salad, which she recommends chilling before serving, so the flavors have a chance to marry.
2. German Potato Salad — In a classic showing of German potato salad, Bobby replaces mayonnaise with cider vinegar in his dressing, and he rounds out the dish with sauteed onions, mustard seeds and bacon fat. Click the play button on the video below to watch him make it.
1. Cold-Fashioned Potato Salad — Alton's tried-and-true salad (pictured above) comes together every time on account of his two-step process. He slices cooked and skinned potatoes one day, lets them chill overnight, then dresses them the next day with a traditional mixture of cornichons, celery, fresh herbs and mayonnaise.
More posts from Maria Russo.
Similar Posts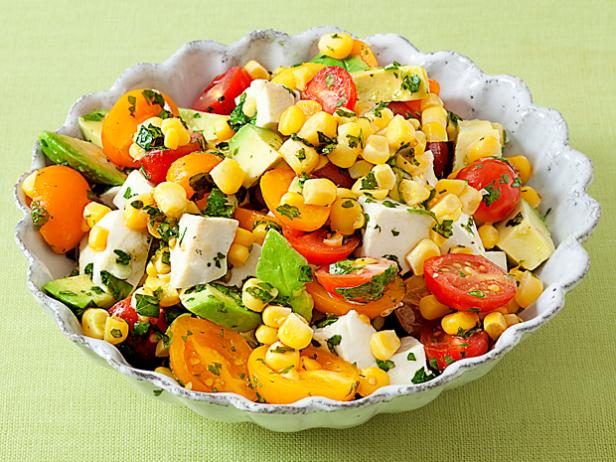 When it's too hot to cook, look no further than these tomato-focused recipes....