Aside from the old reliables — always-addictive chocolate matzo brittle, from-scratch coconut macaroons and flourless chocolate cake — Passover desserts are usually forgettable. Attempts at kosher-for-Passover versions of cookies and brownies never turn out very well, and those sugared jelly candies always make an appearance but remain untouched on the Seder dessert spread. Fortunately, we rounded up five decadent new desserts that are worth making whether you're observing Passover or not.
Lemon-Coconut Matzo Jelly Roll
This flour-free, non-dairy dessert will make an impressive showing when sliced on the post-Seder dessert table.
Matzo Farfel Haystacks
Like a cross between chocolate-covered matzo and macaroons, these tasty haystacks are made with farfel (crushed-up matzo pieces) and toasted coconut.
Matzo Apple Tea Cakes
These tasty individual cakes are crowd-pleasers for dessert or even breakfast during the eight days of Passover.
Matzo Red Velvet Cake
Made with potato starch and matzo meal, this cake has a fudgy texture and spot-on red velvet flavor. The classic icing is made with cream cheese and butter, so if you're having a dairy-free Seder, try swapping in margarine and tofu cream cheese.
Flourless Carrot Bundt Cake
This moist and nutty Bundt is made with almond flour, which consists of very finely ground almonds. It's new take on carrot cake that you'll want to make year-round.
If you are keeping strictly kosher for Passover or cooking for someone who is, seek out kosher-for-Passover ingredients at the grocery store. Look for a circled U-P symbol next to the kosher symbol on the package.
Check out our full collection of Passover recipes.
More posts from Sara Levine.
Similar Posts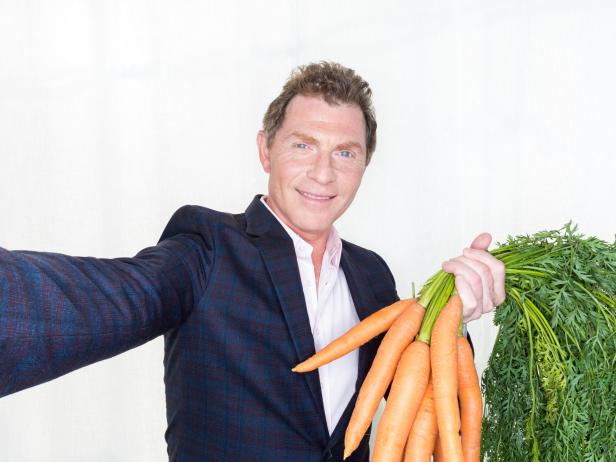 Food Network star Bobby Flay is no stranger to the idea that people want to eat more fruits and vegetables....