Store-bought boxed cake mix can make a lot more than birthday cake in a pinch. The recipe developers in Food Network Kitchen came up with five delectable treats that use cake mix as a base. They're perfect for parties, brunches and after-school snacks – and no one will ever guess your shortcut secret.
Cake-Mix Mint-Chocolate Sandwich Cookies
These are big, chewy, fudgy cookies with just enough mint to cut their richness. Made with devil's food cake mix, they will puff in the oven and settle as they cool.
Cake-Mix Ice Cream Sundae Cake
This ice cream cake is sure to be a hit with kids and adults alike. You can add the sundae toppings before serving, or put them out in bowls to let each person personalize his or her own slice.
Cake-Mix Blueberry Pancakes
These pancakes are fluffy and a bit sweeter than usual, which makes them a perfect match for the tart, lemony blueberry sauce spooned on top.
Cake-Mix Apple-Cinnamon Crumble Bars
These very simple but impressive bars use boxed yellow cake mix for the base, streusel on top and apple butter in between for a sweet snack that's not too sugary.
Cake-Mix Cranberry-Orange Muffins
Tasters went nuts for these muffins – they're moist and fragrant, and put big old bakery muffins to shame. The orange zest in the glaze kicks up the orange flavor without adding extra acidity.
Check out our full collection of crowd-pleasing cake recipes, plus homemade vanilla and chocolate cake mixes from Food Network Kitchen.
More posts from Sara Levine.
Similar Posts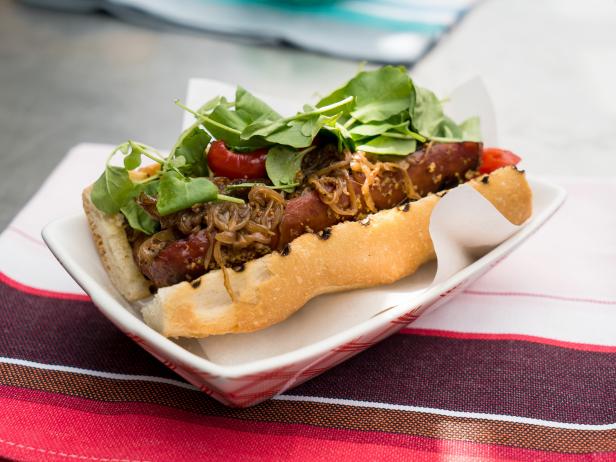 Whether you're planning a killer cookout for Memorial Day or just a meal for your family, hot dogs are definitely one of the easiest crowd-pleasers ...