When the weather's just right — not too hot, not too cold, not too buggy — there's only one way to describe it: It's picnic season. From kid-friendly fare to portable desserts and spicy dishes for all, these are our favorite dishes to bring to a blanket near you.
Warm Picnic Burritos: What travels better than tortillas rolled up around simple pulled pork with extra-zesty flavors? Put this recipe at the top of your list.
Cold Classic Potato Salad: Picnic purists, this one is for you. Alton Brown's masterpiece is destined to become a family favorite for you too.
Sandwiches on a Stick: Just say "no" to messy mayo. Instead, spear the kids' favorite sandwich foods onto a skewer and snip in half if it can't fit in your container.
Layered Picnic in a Jar (pictured above): Who said picnics had to be so much fuss? For a simple meal on the go, try Melissa d'Arabian's brilliant idea for layering rotisserie chicken, green olives and more — all in individual servings ready the moment you twist off the lid.
Shrimp Salad: Leave it to Ina Garten to come up with an entree so simple yet so full of spring flavor (thanks to red onion and fresh dill). You'll vow to bring more next time.
Cheery Cherry-Tomato and Basil Salad: If you've got kids on your outdoor adventure, you'll appreciate a three-ingredient salad like this one full of sweet tomatoes, tangy basil and slivers of red pepper that can be easily plucked out for anyone who doesn't appreciate onions quite yet. And if a pasta salad is on your mind for your picnic, look no further than this easy-does-it pasta version with mozzarella cheese.
Spicy Roasted Chicken Legs: Oh boy! If there's one classic picnic food with a twist you'll try all season, it's this mouthwatering recipe from Ree Drummond. No frying needed.
Spicy Pasta with Chicken, Spinach and Goat Cheese: Pasta is great for a picnic because it can be served easily at room temperature, and this creamy take is no exception.
Best Roast Beef Sandwiches You'll Ever Have: Packing a sandwich for a picnic doesn't have to be complicated, but it does need to be delicious. The secret to this one is twofold: a blue cheese-mayo spread and salty Italian bread.
Mustard Chicken Salad: Rounding out main-dish picnic favorites is Ina Garten's entree that's nearly a one-pot dish in itself. Brimming with fresh broccoli, roasted chicken and a white-wine mustard sauce, you can't go wrong. (And yes, all the reviews on this one are 5-star!)
Lemon Cake: Want a portable dessert that promises to please? Ina Garten's lemon cake has more than 300 5-star reviews, and about that we have to echo the Barefoot Contessa herself: "How bad can that be?"
Cherry-Pistachio Tea Cakes: With a cherry baked right on top, these are the most portable (and adorable) cupcakes you'll bake all spring.
Charity Curley Mathews dreams of raising kids who eat (and enjoy) real food. A former VP at MarthaStewart.com, she's a contributor to The Huffington Post and heads up Foodlets.com: Mini Foodies in the Making…Maybe. Together with her husband and three small children, she now cooks in North Carolina.
More posts from Foodlets.
Similar Posts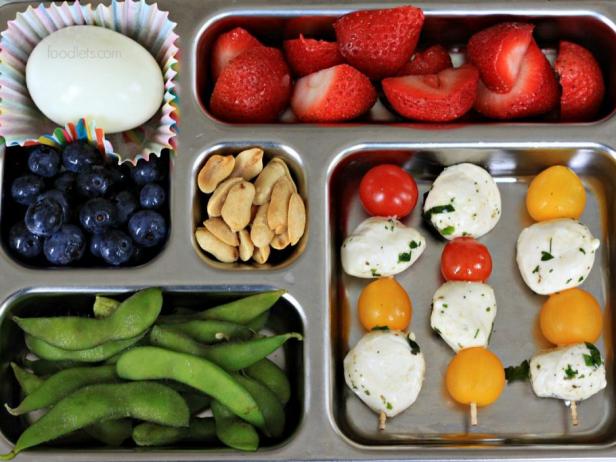 One mom shares her go-to trick for less-hectic weekday mornings....