Casseroles have gotten such a bad rap in recent years, dismissed with sneers about soup cans, that those who love casseroles (and who, secretly, doesn't love a good casserole?) may have felt compelled to keep their comfort-food cravings to themselves.
Now, finally, casserole fans can come clean: The humble one-dish meal has found a champion to defend its honor and bring it the respect it needs.
New York Times food columnist Melissa Clark writes that the casserole, though cozy, is not, inherently, "dowdy in its DNA," nor must it be "bland or one-note," and it "does not have to contain even a single strand of melted cheese, or be dusted with crushed potato chips."
In fact, she suggests, "The casserole can be nuanced and urbane, with room for fresh ingredients, clever details and a vivid palette of flavors," adding that "there's nothing wrong with baking assorted ingredients together in a dish" and that "when done just right, the elements merge in the oven's heat, building on one another until the flavors unite into a delicious whole, preferably one with a golden top and appealingly moist center."
What's more, the casserole is easy to bake, can feed a crowd, has respectable ancient origins and is made by cultures all over the world, Melissa observes, noting that a casserole by any other name — cassoulet, tagine, moussaka, shepherd's pie, lasagna, bread pudding or gratin — is still, you know, a casserole.
So let's hear it for casseroles and let's show our love for them by tackling some new comforting, can-free casserole recipes from Food Network Kitchen:
— Chicken Noodle Casserole, Beef and Bean Taco Casserole and Baked Spaghetti are delish one-dish versions on favorite comfort foods.
— Broccoli and Orzo Casserole includes Havarti, the mild Danish cheese that is often enhanced with dill or caraway.
— Ham and Cheese Breakfast Casserole is a great bake-ahead option when hosting brunch for a big crowd. (Another great brunch dish: Coconut Almond French Toast Casserole.)
And you'll find more warm and inviting casserole recipes from Food Network here.
More posts from Amy Reiter.
Similar Posts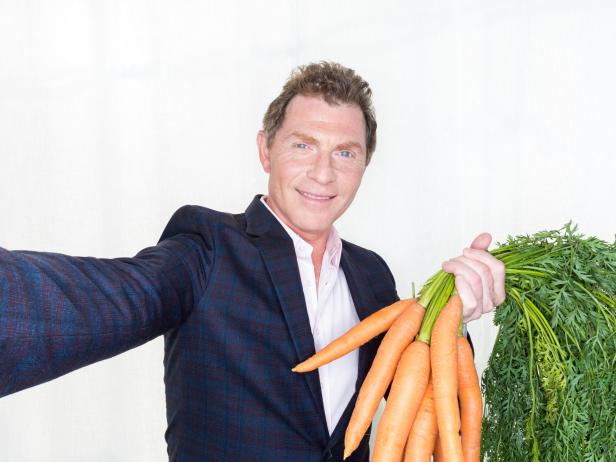 Food Network star Bobby Flay is no stranger to the idea that people want to eat more fruits and vegetables....