With the new season just beginning it's time to start thinking about spring-cleaning, your kitchen included. Getting organized means less time spent searching through your cabinets for key utensils or ingredients. That means less time in the kitchen overall when you need to get dinner on the table on a busy weeknight. From spices to baking tools, Vivian Jao put together her top tips for getting the most out of your space.
1. Your Pantry
Make meal planning easier with a well-organized pantry. Assign designated areas for different kinds of food, like baked goods, breakfast items, boxed goods and canned goods. Label these areas or shelves as a reminder for when you're unpacking groceries. Designate a section for quick-cooking meals, like mac and cheese or canned soup, for when you just need to grab something in a pinch.
14 Tips to Organize Your Pantry
2. Your Spice Rack
Spices don't last forever. Go through what you have on hand and get rid of spices that are older or have no scent. Spices are best kept in a cool, dark area to prolong their life, so decide on the best place to house them. The more accessible your spices are, the more likely you are to use them. You can arrange them alphabetically or by use. Commonly used spices can be kept close at hand while baking spices or spice mixes for ethnic cuisines can be stored together elsewhere.
7 tips to Organize Your Spice Rack
3. Your Baking Supplies
If you have the space, assign a baking area in your pantry or cupboard. Keep dry ingredients together and wet ingredients together (except for certain flours and nuts that can go rancid and therefore are best kept in the freezer). Flours and sugars can be transferred to airtight containers to accommodate measuring cups.
7 Tips to Organize Your Baking Supplies

4. Your Plasticware
Finding a matching lid to a container can be frustrating when your plasticware is in a jumbled mess. Go through everything and make sure each set is complete; recycle those pieces that are missing their partner. Keep empty takeout containers or other throwaway vessels to pack leftovers in for guests. Stack the same shapes together and nest them if possible.
8 Tips to Organize Your Plasticware
More Organizing Tips:
9 Tips to Organize Your Pots and Pans
9 Tips to Organize Your Cookbooks
More posts from Cameron Curtis.
Similar Posts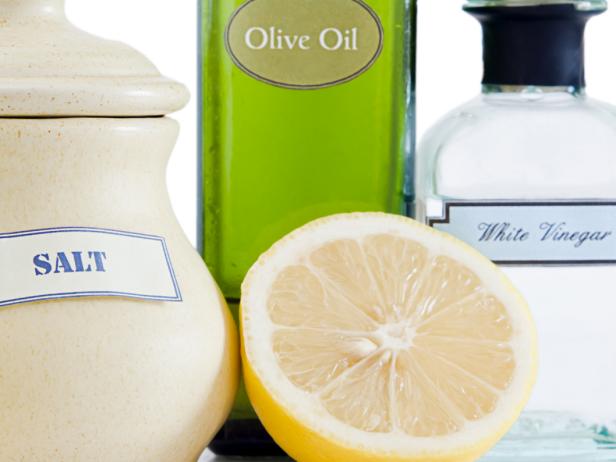 Before you reach under the sink for any household cleaning products, give DIY cleaners a try to polish stainless steel, clean grease stains and freshe...