On Worst Cooks in America, 14 recruits have the tremendous opportunity to be mentored by Food Network Chefs Anne Burrell and Bobby Flay. They've come to Boot Camp with some of the worst skills imaginable, but if they're able to survive seven weeks of competition without getting eliminated, they might just be named the best of the worst and win $25,000. Every week, one recruit from each team is sent home. This week Anne and Bobby determined the final two who would make it the finale.
FN Dish has the exclusive interviews with the eliminated recruits from the Red Team and the Blue Team.
More Worst Cooks in America
Exit Interview with the Eliminated Blue Team Recruit
Episode 6 Highlights (Photos)
A Family Meal (Video)
With just two members left per team, this week had the smallest group of recruits in Boot Camp this season. For their Skill Drill challenge, the recruits had to tell their mentors what to do for a change. Using headphones and microphones, each team dictated a plate of food to their mentor, who then attempted to re-create it as close to the original as possible. Jamie and Mike's expert communication won their Red Team the challenge. For the final Main Dish challenge, Anne and Bobby surprised the recruits with family members, who they had to cook for. A blind tasting helped Anne determine whether Jamie or Mike would represent her in the finale. Ultimately Anne chose Jamie, which meant sending home Mike.
It looked like you and Jamie did a great job working together when describing the dish to Anne during the Remote-Control Chef challenge, and your team won. What does that say about your team?
Jamie's my man. We killed that challenge. Dancing, chatting — it was a blast. It's proof of Chef Anne's ability to teach us how to cook, what techniques to use and how to speak in co-terminology. I was blown away by Jamie and our ability to work backward deconstructing that dish. We were Red Team dynamos!
What was it like cooking for your girlfriend in the final challenge? Did it add any extra pressure?
It added the best kind of pressure — the pressure to put my heart on the plate. You hear chefs say: "Cook with love. Cook with love." And that's what I did. And she loved it! Next step is to propose to her, and I'll cater our wedding.
Did you choose to cook salmon because you thought Lindsay would immediately recognize it was you? What were your intentions with the dish?
Lindsay loves salmon. She eats healthy, and what better way to impress her than to serve a healthy meal we can re-create at home? I wanted it to be a little rare. My thinking was, you serve tuna rare in the middle, and we eat sushi all the time (raw fish). I knew my seasoning was right on. I knew that the skin was crispy and delicious, but I guess it was a little under what I wanted to achieve.
What were you feeling when you found out you wouldn't be going onto the finale?
Prideful disappointment. I wanted it so bad, but my story came full circle, and I'm very proud of my journey. I came into this competition wanting to learn how to cook for the ones I love, then I was able to cook for the love of my life on the show, and she loved my food. What more can I ask for? What I did on this show is what life is all about.
During elimination you said that your improvements have opened up a new door. What do you think has been your biggest improvement during this experience?
I can cook. OH-WEE! I'm a cooking machine now. Look out because I'm making pastries, baked chicken, pizza from scratch — everything. This quirky Chicago hipster can make a mean lemon bar. Who knows? Maybe one day I'll have my own show about hip seasonal recipes, vegan cuisine, and unique hole-in-the-wall spots for young folks to drink beer and play pinball. It'll be called Date-Day for Lindsay and me, and we'll check out somewhere new for drinks, and then I'll cook for her a healthy meal and dessert.
What's the No. 1 thing you learned from Anne during your time on the show?
Clean as you cook. Thank you very much!
Did you ever think you would make it this far?
I thought I would win. I won two out of two blind taste tests — once for the doughnuts when both chefs picked my s'mores doughnut, and again for the family challenge where everyone chose my food, even Paco. Everyone chose my food in the challenges based solely on taste, presentation and creativity. Even Betsey Johnson loved my appetizers. That's three times the public liked what I cooked. I'm very proud to have won the blind taste tests because that's who the public is when they try your food for the first time.
What's next for you? Will you be cooking a lot more?
I'm going to cook all the time. All the time. There's a farmers market near us, and on Date-Day I want Lindsay and I to go shopping for seasonal produce and healthy alternatives to frozen pizza. It's wonderful to be able to cook with and for the woman of my dreams. I'm also interviewing at a lot of pastry shops to become an assistant and further my education. I love what Worst Cooks has done for me and my family's future. Thank you for changing my life.
More posts from Joseph Erdos.
Similar Posts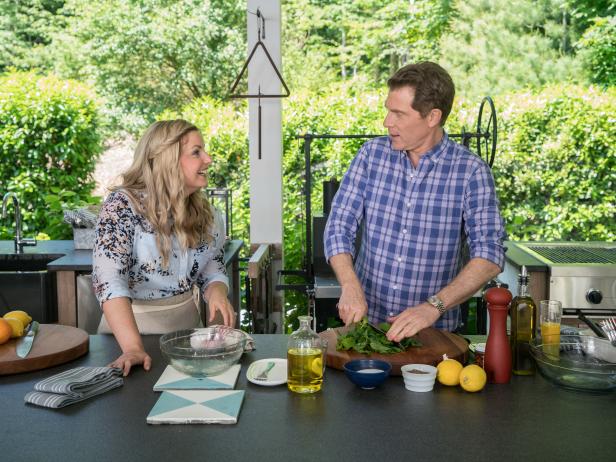 Get the latest details on the all-new series, The Bobby and Damaris Show....