Who said a restaurant had to break the bank to be good? You can keep your fancy-pants gazillion-dollar-a-plate eateries — or at least keep diligently saving up to one day try them. The number one restaurant on Yelp's just-released list of the Top 100 Places to Eat in the U.S., based on its community reviews, is a little hole-in-the-wall joint in a condo community in Kailua-Kona, Hawaii, called Da Poke Shack, where a meal will run you around $10. The food — "always fresh … never frozen," its website boasts — is served into disposable containers with ice cream scoops. Yes. [Yelp via Slate]
If only it counted as exercise: Kitschy kitchen accessory alert for 'za-loving cycling buffs (and those who long to be buff cyclists). The Fixie Pizza Cutter, by DOIY, designed to look like a fixed-gear bike, complete with handlebars, seat, frame and two wheels sharp enough to slice through crust, is the talk of the hungry hipster set. It comes in two color combos: Watermelon (mint and pink) and Bumblebee (black and yellow), and retails for around $25. Alas, it's not yet being shipped to the U.S., but here's hoping it rolls this way soon. [Toxel]
The controversies swirling in your cup of tea. Do you suppose when George Orwell wrote that famous quadruped rallying cry in his classic, Animal Farm, he actually meant to write, "four bags good, two bags bad"? You might think so after reading the British novelist's 11 "golden" rules for preparing and drinking tea, A Nice Cup of Tea, laid out in an essay originally published in 1946 and more recently excerpted on the blog Brain Pickings. George was apparently quite serious about his leafy brew and, in the essay, he addresses several points he finds "acutely controversial": among them, precisely when to add the milk. [Brain Pickings]
Blow out your candles, Milton the Toaster. This year, Kellogg's Pop-Tarts, that toaster treat we've all loved since childhood, is marking its golden anniversary, the big 5-0. (Fun fact: According to Pop-Tart collector Dennis Hasty, General Foods, which released in Pop-Tarts in 1964, was originally set to call the foil-wrapped pastry Country Squares. But a "square" was an insult back then, so it changed its name to something snappier, evoking the hip modernity of Pop Art, and the product took off.) What better way to honor pastry perfection by making your own homemade Pop-Tarts? Pastry chef and FoodNetwork.com contributor Hedy Goldsmith tells you how. [Time]
Epic food fails: You know how sometimes (OK, often) you try to bake something that will look exactly like something you saw in a recipe book or online and it turns out looking a little — uh — different. Well here is definitive, hilarious proof that you're not the only one. That mermaid — oh my. [SMOSH]
Wait your turn, jelly fans. Today (March 1) is National Peanut Butter Lovers Day. Celebrate the stalwart spread by making your own PB — or some Peanut Butter Fudge or Peanut Butter Cookies. Yeah, go nuts.
More posts from Amy Reiter.
Similar Posts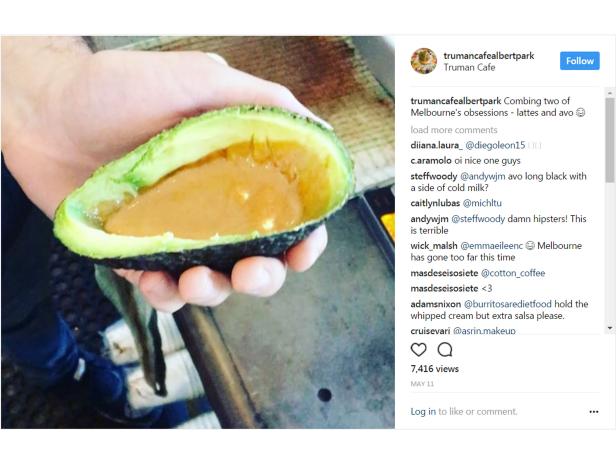 What's more on trend than artfully poured lattes and avocados? An artfully poured latte in an avocado....