This weekend, watch all new episodes from Ree, Trisha, Jeff, Giada and Ina. Ree is cooking up a breakfast for her brother Mike. Then Trisha gets in the kitchen and the gym with two Olympic gymnasts. On Sandwich King, Jeff reinvents classic steak sandwiches. Then Giada cooks grown-up versions of popular childhood recipes. And Ina is hosting a cocktail party for a fundraiser.
On Saturday, watch an all-new episode of The Kitchen, where the hosts answer viewers' questions. Also Kelsey Nixon stops by to talk about her new book Kitchen Confidence, a copy of which will be given away tomorrow on FN Dish. On Sunday, watch a brand-new Food Court Wars, a Las Vegas-themed Iron Chef America with Chef Flay facing challenger Chef Angelo Sosa and a new episode of Cutthroat Kitchen.
The Pioneer Woman: "Cowboy Mike"
Ree's brother Mike is helping Ladd feed the cattle out on the prairie and Ree is making a fabulous and comforting Mexican Hot Chocolate, with marshmallows for toasting over the fire. While everyone's hanging out, she makes Mike's favorite breakfast: individual Eggberts Sunrisers with Orange Mini Muffins. (Episode: WU0704H)
Saturday 10a|9c
Trisha's Southern Kitchen: "Gold Medal Meals"
Trisha is making a meal that will score a perfect 10 with her friends Nadia Comaneci and Bart Conner. The gold medal-winning gymnasts may be visiting her in the kitchen, but they are also getting Trisha in the gym and on the balance beam! To fuel the champions, Trisha is cooking a delicious meal of Pork Medallions, Garlic Grits Casserole and Pineapple Upside-Down Cake. And Nadia is showing Trisha how to make her Salata de Vinete. (Episode: YW0406H)
Saturday 10:30a|9:30c
The Kitchen: "The Kitchen Helpline"
This week the hosts are all about answering your questions: First they answer viewer videos and Geoffrey makes a delicious Pan-Seared Chicken with Olives. Then they give advice on how to fix viewers' food fails and make hummus and salsa while discussing DIY or Buy? Cookbook author and Cooking Channel host Kelsey Nixon makes her Sloppy Jane Sliders and the hosts have fun giving household items new uses for the kitchen. (Episode: KC0109H)
Saturday 11a|10c
Sandwich King: "Speakeasy Steak Sandwiches"
Jeff starts with a Hanger Steak Sandwich with Bourbon Creamed Spinach. Next up is a steakhouse classic, with a twist — Open-Faced Clams Casino with a parsley-lemon mayo. For a cocktail, Jeff makes a "new" old-fashioned. (Episode: ZB0510H)
Sunday 10:30a|9:30c
Giada makes three comforting recipes that we all know and love from our childhood, but gives each recipe a grown-up spin: Mushroom Mac and Cheese, Grown-Up "Franks and Beans," and Strawberry Shortcake Soup. (Episode: GH0616H)
Sunday 11a|10c
Barefoot Contessa: "Cocktails for a Crowd"
Ina's hosting a fundraiser at the barn for The East Hampton Historical Society and is sharing her blueprint for a foolproof cocktail party. From invitations to store-bought cheats, this is entertaining made easy. The menu for the party: Caramelized Bacon, Roasted Shrimp Cocktails with Green Goddess Dressing, Potato-Basil Frittata Squares and a Champagne Cocktail bar. (Episode: BX1001H)
Sunday 11:30a|10:30c
Food Court Wars: "Fat Shallot vs. Glutton Force 5"
Two teams made up of Chicago food truck owners crave the stability that a food court location in West Dundee, Ill., could provide. Who will win the coveted prize — husband and wife Sam and Sarah's Fat Shallot or best friends Pat and Tim's Glutton Force 5? (Episode: VW0202H)
Sunday 8|7c
Iron Chef America: "Vegas High Rollers: Flay vs. Sosa"
It's Vaya con Vegas, baby, as the Chairman rolls the dice and pits Iron Chef Bobby Flay against challenger Angelo Sosa in a fight for the win. The judges for this battle are Hal Rubenstein, Judy Joo and Billy Harris. (Episode: IA1206H)
Sunday 9|8c
Cutthroat Kitchen: "It's Not Delivery, It's Old Delivery"
Breakfast becomes the most-important meal of the day when three chefs must find new uses for common breakfast appliances. Then a chef must decide to go sweet or savory with his or her calzone when the entire stash of cheese is swapped out for tiramisu. In the final challenge, a chef is forced to downsize by cooking fajitas on a mini skillet. (Episode: KT0212H)
Sunday 10|9c
More posts from Joseph Erdos.
Similar Posts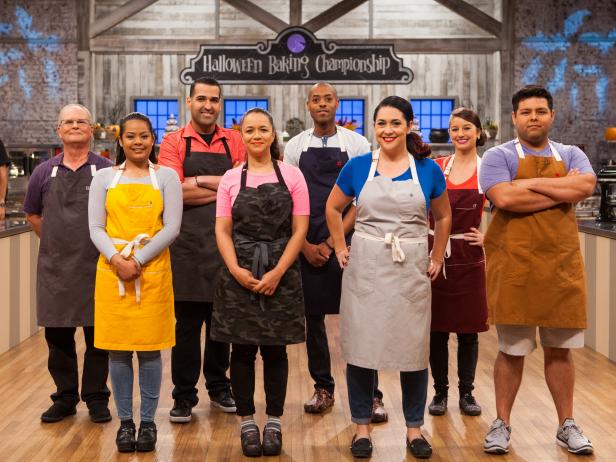 Get the details on the all-new season of Halloween Baking Championship, premiering on Sunday, Sept. 25 at 9|8c....