Tonight, Guy Fieri is getting a taste of New York City on an all-new Diners, Drive-Ins and Dives. On Saturday morning, Ree's hosting a movie night for her daughter and cooking a Roman feast to match the movie, Julius Caesar. Afterward, stay tuned for a new episode of The Kitchen, where figure skater Brian Boitano stops by to cook a pasta dish. And you won't want to miss Jeff showing off his Olympic spirit.
On Sunday morning on Sandwich King, Jeff makes a BBQ rib burger followed by a dessert that combines cookies, pretzels, candies and more. On Giada at Home, Giada hosts a poolside cocktail party with appetizers to match. Then on Barefoot Contessa, Ina prepares a portable feast for a birthday party that has guests sailing down the Hudson River. In the evening, watch an all-bacon-basket episode of Chopped followed by a new episode of Cutthroat Kitchen.
Diners, Drive-ins and Dives: "All Things New York"
This trip, Guy's gettin' a taste of New York City in and out of the Big Apple. In Eureka, Calif., there's the Bronx-bred pizza maker bringing unique Neapolitan-style pies to Northern California. Queens, N.Y., has the filmmaker-turned-chef making a huge proposal and kickin' out killer dishes like Spicy Atomic Fireballs. And in New York's Lower East Side, the farm-to-table spot taking fresh and local to a whole new level is servin' up standout seasonal sammies like the Winter Pig. (Episode: DV1902H)
Friday 10|9c
The Pioneer Woman: "Shakespeare Movie Night"
Ree's hosting a movie night for her daughter and classmates and preparing a Roman-inspired menu to accompany Shakespeare's Julius Caesar. Steaming pans of Supreme Pizza Lasagna, crisp Julius Caesar Salad and Neapolitan Ice Cream compose the perfect feast before a tale of Roman intrigue and assassination. (Episode: WU0702H)
Saturday 10a|9c
The Kitchen: "The Kitchen on Ice"
This week The Kitchen is on ice when special guest Brian Boitano stops by to make rigatoni with spicy chicken sausage. Also, Jeff Mauro uses three ingredients from the freezer for a delicious dish, Geoffrey mixes an Icy Orange Cosmo, Sunny's cooking up one of your most-searched recipes, Spicy Mac and Cheese, and Marcela's got dessert covered with an ice cream sundae bar. (Episode: KC0108H)
Saturday 11a|10c
Sandwich King: "Wreck on a Roll"
Jeff's starting off his Wreck on a Roll menu with a Smoky BBQ Riburger on Cheesy Garlic Bread, which is smothered in a pineapple chipotle barbecue sauce. Next up is a Garbage Salad and Champagne Vinaigrette topped off sweet pepperoncini. And for dessert it's a Wreck in a Glass with all the fixins: chocolate chip cookies, cereal, pretzels and chocolate candies; it doesn't get sweeter than this! (Episode: ZB0501H)
Sunday 10:30a|9:30c
Giada at Home: "Cocktails and Appetizers"
Giada hosts a poolside cocktail party, but the appetizers are finger-food versions of traditional breakfast items like French Toast Fingers with Ginger Bourbon Maple Syrup, Mini Smoked Frittatas with Chive Creme Fraiche, and Melon and Olive Mini Skewers with Black Pepper Honey. Her friends, mixologists Alie Ward and Georgia Hardstark, join the fun and create the Scotch Bonnet Marmalade Cocktail to complement the menu. (Episode: GH0615H)
Sunday 11a|10c
Barefoot Contessa: "Birthday Boat Party"
Ina is setting sail down the Hudson River to celebrate a friend's birthday. They're providing the boat and she's bringing fantastic portable food, like Hot Smoked Salmon, Fresh Dill Sauce and Carrot Cake with Ginger Mascarpone Frosting. Plus, she's sharing foolproof picnic strategies guaranteed to make any alfresco celebration a huge success! (Episode: BX1005H)
Sunday 11:30a|10:30c
The chefs get some great news before the cooking begins: Bacon will be in every basket! In the first one, they find Mangalitsa bacon and apple chips. Then in the second round, the judges watch to see if the competitors will be able to make dried cherries work with their pork entrees. French toast and bacon are breakfast classics, but can the final two chefs manage to transform these mystery ingredients into dessert? (Episode: CQ1811H)
Sunday 9|8c
Cutthroat Kitchen: "Foul Play"
Two chefs learn the true meaning of improvising when they're forced to switch dishes and sabotages in the middle of a challenge. Then, someone has to get innovative when given a loaf of sliced bread to use as a bread bowl for clam chowder. Finally, a chef is taken back to childhood when he or she must harvest breading from chicken nuggets for chicken-fried steak. (Episode: KT0210H)
Sunday 10|9c
More posts from Joseph Erdos.
Similar Posts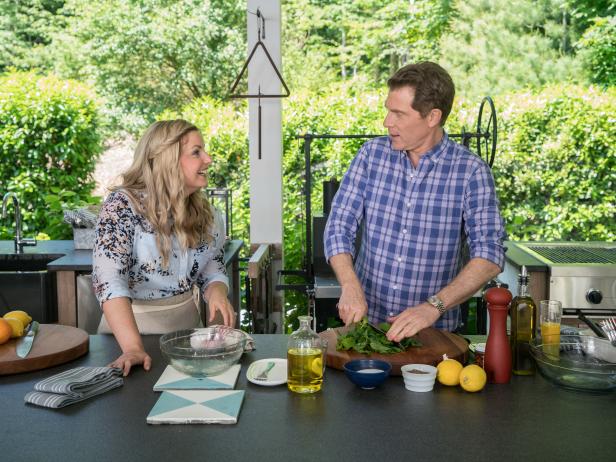 Get the latest details on the all-new series, The Bobby and Damaris Show....