A perfect rich-yet-airy chocolate souffle is the ultimate wow-factor Valentine's Day dessert. But souffles can be intimidating, both for expert bakers and novice cooks. So we asked Pastry Chef Robert Parks, lead instructor of the Oregon Culinary Institute in Portland, for his no-fail, no-fall recipe, plus five top tips for souffle success.
1. Make a "cream-based" souffle: This is the key to Chef Parks' no-fail recipe. Cream-based souffles include starch, which makes the souffle more stable and less sensitive to movement.
2. Use the right type of ramekin: deep and straight-sided.
3. Don't overwhip or underwhip the meringue: It should be stiff but not crumbly or dry.
4. Buy fair-trade chocolate: Even though it could be a little more expensive, fair trade ensures that the people growing and harvesting the cocoa are treated fairly.
5. Never eat a souffle alone: That would be too sad.
Get the Recipe: Chocolate Souffle
Yield: Two 8-ounce ramekins
1 tablespoon butter, plus more for the ramekins
1 tablespoon all-purpose flour
1/2 cup milk
2 tablespoons sugar, plus more for the ramekins
2 ounces bittersweet (or dark) chocolate, chopped finely
2 eggs, separated
Brush the inside of the ramekins with soft butter and coat with sugar.
Preheat oven to 375 degrees F.
Melt the butter in a small saucepan, add the flour and whisk until smooth.
Add the milk and 1 tablespoon sugar and boil, whisking constantly, until very thick.
Add chocolate to hot base and mix until melted.
Mix in the egg yolks.
Keep base warm while whipping whites.
Whip egg whites to soft peaks, then slowly add 1 tablespoon sugar and continue whipping to firm, moist peaks.
Slowly whisk 1/3 of the meringue into base to soften, then fold in remaining meringue.
Fill prepared ramekins up to 1/4 inch from the top.
Bake for 18 to 20 minutes.

Chocolate Sauce
2 tablespoons water
2 tablespoons sugar
2 ounces dark chocolate, chopped
1 tablespoon cocoa powder (plus water)
1 tablespoon butter
Mix together water, sugar and chopped chocolate, and place over medium heat.
Stir constantly until mixture begins to boil.
Blend cocoa powder with a small amount of water to make a smooth, soft paste.
Whisk cocoa paste into chocolate mixture and return to a boil, stirring constantly for 1 minute to thicken.
Strain and whisk in butter. Serve with the souffles.
Check out more sweet and savory recipes for Valentine's Day from Food Network.
More posts from Sara Levine.
Similar Posts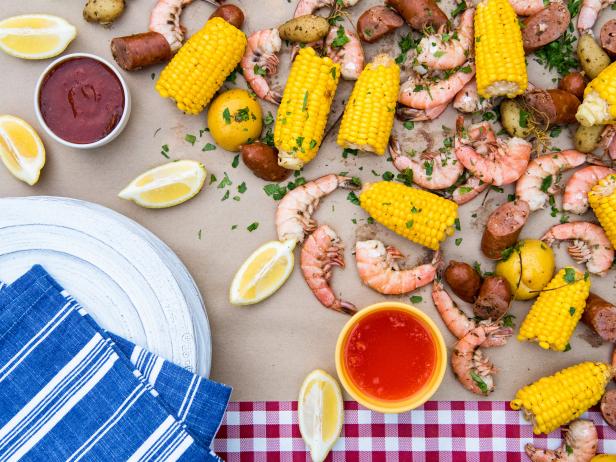 Have friends over — or embrace leftovers — with these Food Network recipes that feed more than four. ...