Love and chocolate. That's what Valentine's Day is all about. Go beyond the boring box of store-bought chocolates and wow your valentine with spicy homemade truffles decorated with sprinkles, candies, sparkling edible glitter and glimmering edible jewels.
My go-to recipe for Spicy Brazilian Chocolate Truffles is extremely easy. The secret is constantly stirring the chocolate over low heat until it becomes very thick. Make a batch for your sweetie and check out step-by-step instructions below for decorating each of the truffles in my assortment.
Ingredients:
1 (14 ounce) can sweetened condensed milk
1 tablespoon unsalted butter, plus more for greasing pan and hands
3 tablespoons unsweetened cocoa powder
1/2 teaspoon ground cinnamon
1 pinch of ground cayenne pepper (optional)
Directions:
Coat a large shallow pan or platter with butter or cooking spray. In a large saucepan, bring condensed milk, butter and cocoa powder to a boil, stirring constantly with a rubber spatula. Reduce heat to medium-low and cook for 15 to 20 minutes, stirring constantly until mixture pulls away from the sides of the pan and has the consistency of very thick frosting. Pour mixture into greased pan; let cool completely and become firm (you can refrigerate it to speed up the process). Grease your hands with butter and shape 1- to 2-inch balls. Decorate each ball with sprinkles as described below. Place on waxed paper and refrigerate for at least 1 hour before serving.
Here are more truffle recipes from Food Network:
Alton's Chocolate Truffles
Tyler's Dark Chocolate Truffles
Classic Truffles from Food Network Kitchen
Here's Alton Brown's recipe for tempering chocolate in the microwave.
For decorating, you'll need:
Nonpareil candies for large jewels
Sno-Caps candies for small jewels
Lump sugar (also called rock sugar; found in most Asian markets) for faceted jewels
Edible glitter (such as Wilton's Cake Sparkles and Pearl Dust)
Red candies (I use Pop Rocks and Red Hots)
Vodka (it evaporates so it's kid-safe)
A small paint brush
Wax paper
Melted, tempered chocolate
Here's how to decorate each truffle — you can mix-and-match, or make them all!

Brush nonpareils with vodka, then coat with edible glitter. Let dry completely. Dip each of the prepared truffles in melted chocolate and place on waxed paper. Gently press a painted nonpareil on top of each one.
Moisten small pieces of lump-sugar candy with vodka, then roll in disco dust to make edible faceted jewels. For the above picture, roll truffles in white nonpareils and then dip them halfway in melted chocolate, which acts as glue for the candy jewel.
Roll prepared truffles in nonpareils, then brush with vodka and coat with disco dust. When dry, dab the back of large heart-shaped quins with melted chocolate and attach.
Dip the truffles completely in melted chocolate, sprinkle on edible glitter, then attach a candy jewel. A dab of chocolate on the back of a heart-shaped quin tops it off.
After shaping the chocolate mixture into balls, grab a handful of Red Hots and firmly press them into the surface, then roll in a small bowl filled with Pop Rocks and/or sprinkles to fill in the gaps.
This cake is a real showstopper! Pile truffles on top of a flourless chocolate torte, like this one from Food Network Magazine.
Jackie Alpers is an award-winning food photographer and the author of Sprinkles!: Recipes and Ideas for Rainbowlicious Desserts (Quirk Books 2013).
More posts from Jackie Alpers.
Similar Posts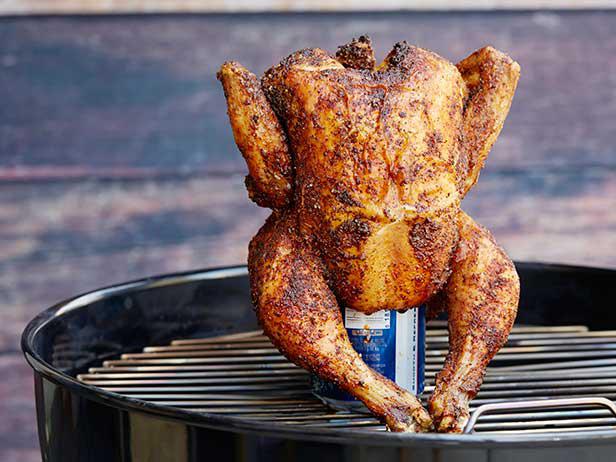 This clever grilling technique is easy enough to perfect even on your first try making it....