Every stage of the cookie-baking process — from licking the batter to succumbing to seconds — is therapeutic. Just as soon as you slide them from the pan, any kind of work-, traffic- or weather-induced woe will meet its end. But let's be realistic; cookie comfort isn't one-size-fits-all. You may need to bake up some solid recipes for old-school classics, or try your hand at new creations you might not have considered. All that's left is a non-negotiable glass of cold milk, since cookies are simply better when they're dunked.
The Classics
A no-fail recipe for Chocolate Chip Cookies is vital for any baker. Consider this easy, versatile dough a jumping-off place; whatever you add beyond chocolate chips is up to you. For those who prefer these classics with a crunch, Crispy Chocolate Chip Cookies are baked until just brown around the edges.
The average sugar cookie lover will likely tell you one thing: Sugar cookies are better when they're soft and chewy. Roll these Chewy Sugar Cookies in sugar sprinkles for an extra-special treat.
What's a bake sale without a good snickerdoodle? These cinnamon-sugar treats are soft, thick and best enjoyed straight out of the oven.
Chock-full of nuts and dried fruit, Loaded Oatmeal-Raisin Cookies are so lovely that it'll be hard to resist eating them for breakfast.
The Newbies
Ree's Monster Cookies take the cookie game by storm. Jam-packed with chocolate chips, M&Ms, pecans and rice cereal, they live up to their name with each bite.
Scrap the traditional squares for Trisha's chocolatey Brownie Batter Cookies (pictured above). They pack all the fudgy goodness of classic brownies into cookie form.
Rethink another dessert favorite with Sandra's New York Cheesecake Cookies, complete with graham cracker bases and creamy, tangy centers.
Bring on the distinctive sweetness of your favorite milkshakes and candies with Ree's Malted Milk Chocolate Chip Cookies.
Sometimes a good cookie doesn't even need the oven. Chocolate Peanut-Butter No-Bake Cookies may get their foundation from a few scoops of oatmeal, but the taste is all chocolate and peanut butter.
Don't restrict your cookies to circles. For Peanut Butter Cupboard Cookie Bars, top a peanut butter cookie base with creamy chocolate-sour cream frosting. Before slicing and devouring, make a snacker's dream come try by sprinkling crushed candies, potato chips and pretzel sticks on top.
More comforting cookie recipes from friends and family:
Jeanette's Healthy Living: Peanut Butter and Jelly Thumbprint Quinoa Oat Cookies
The Heritage Cook: Meyer Lemon Shortbread Cookies with Meyer Lemon Curd
Elephants and the Coconut Trees: French Palmiers
Weelicious: Homemade Oreo Cookies
Devour: Top 5 Chocolate Cookies
Taste With The Eyes: A Korean Sweet Treat – Hwa Jeon with Honey and Flower Petals
Napa Farmhouse 1885: Cornmeal Thumbprint Cookies with Chocolate Ganache Filling
Red or Green: Chocolate, Almond and Ginger Cookies
Domesticate Me: Healthy Dark Chocolate Chunk Oatmeal Cookies with Cherries and Sea Salt
Food for 7 Stages of Life: Rose and Cardamon Nankhatai (Eggless Indian Shortbread Cookies)
Virtually Homemade: Oatmeal Caramel Skillet cookie with Marshmallows and Chocolate
The Sensitive Epicure: Almond Butter Cookies (Gluten-Free)
FN Dish: Cookie Comfort
More posts from Allison Milam.
Similar Posts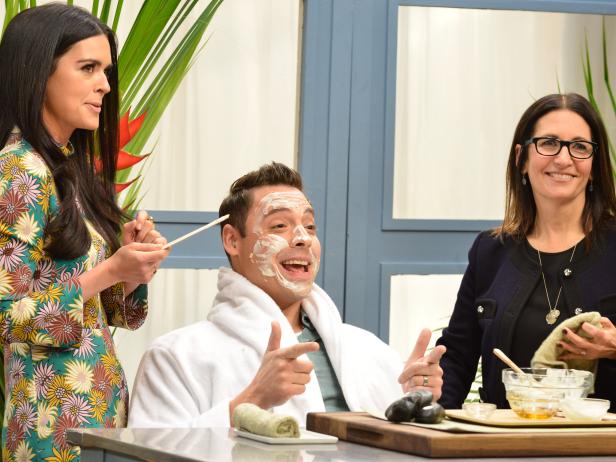 You don't have to travel somewhere exotic to make the most of your time off....