While some get-togethers are all about elegantly plated entrees, individual servings and dainty dishes, big-game bashes aren't among them. For successful football food, all that's needed is something easy to eat on the couch and large enough to feed a crowd, which is why traditional picks include sticky, saucy chicken wings, eat-with-your-hands chips and dips, and bowls of meaty chili. Nachos, however, may be the ultimate tailgate-worthy dish, as they're not only simple enough to chow down on with one hand, but they're often served family-style, encouraging big-group snacking. The foundation of nachos is simple — just chips and some cheese or salsa — but beyond that, they can be customized to your family's tastes or whatever ingredients you happen to have on hand. Check out Food Network's best-five nacho recipes below from Rachael, Guy, Marcela and more Food Network chefs to find winning platters that will wow your party guests.
5. Grilled Chicken Nachos with Cheese Sauce, Avocado Relish and Charred Jalapenos — The secret to Bobby's moist, flavor-packed chicken is a marinade of lime juice, ancho chile powder and Worcestershire sauce. He lets chicken thighs rest in the mixture overnight before grilling the meat and adding it to a platter of chips with creamy Jack cheese sauce, cool avocados and jalapenos.
4. Guy-talian Nachos — Guy assembles his nachos in layers — first chips, then a combination of sauteed beef and turkey, and a sprinkle of mozzarella — before covering them with salami, basil and tomato-garlic salsa for an Italian-inspired plate.
3. Food Network Kitchen's Nachos — Ready to eat in only 30 minutes, these bold nachos are made without meat, so they're a go-to option if you're entertaining vegetarians. But since they feature hearty refried beans, plus toppings like roasted poblanos, a blanket of shredded cheese and tangy sour cream, meat lovers won't miss the beef one bit.
2. Mole Nachos — Although Marcela uses Mexican chocolate and creamy peanut butter to flavor her authentic mole, the sauce won't turn out sweet, but rather smoky from the chiles with a welcome depth of flavor. This mole tops tortilla chips and is rounded out by Oaxaca cheese and smooth Mexican crema.
1. Super Nachos — The ultimate in game-day nachos, Rachael's piled-high presentation (pictured above) features crunchy chips, a mixture of spiced beef and beans, as well as a rich pepper Jack cheese sauce and fresh pico de gallo. For even more flavor and texture, sprinkle on additional toppings, like scallions, black olives and avocado. Click the play button on the video below to watch Rachael make these easy nachos.
Browse Food Network Magazine's collection of 50 Nachos for more nacho inspiration ahead of Sunday's big game.
More posts from Maria Russo.
Similar Posts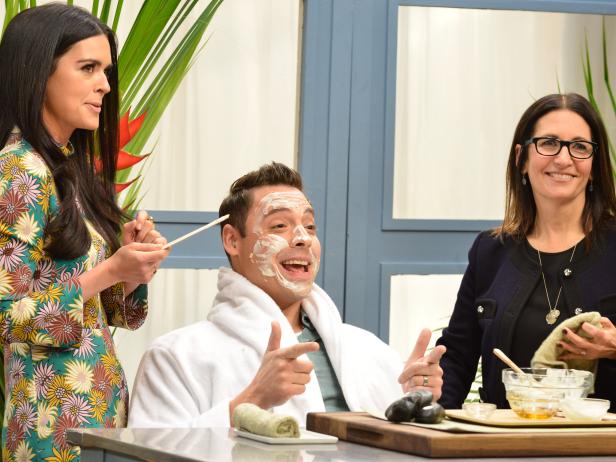 You don't have to travel somewhere exotic to make the most of your time off....