This week, Food Network has added three new shows to its lineup: Kelsey's Essentials, Donut Showdown and Eat Street. On Thursday there's a new episode of Chopped Canada and on Friday Sandwich King Jeff Mauro goes on a Disney vacation with his family. Afterward, watch as Guy seeks out global flavors in a special episode of Diners, Drive-Ins and Dives.
Over the weekend, tune in for all-new episodes from Ree, Trisha, Rachael, Guy, Jeff, Giada and Ina. Plus, watch game-day episodes of The Kitchen on Saturday morning and Iron Chef America on Sunday evening. Afterward, it's a new episode of Cutthroat Kitchen filled with the sabotages that viewers have come to expect.
Kelsey shares her essential tips for buying and cooking with cheese. Her recipes include Queso Fundido with Charred Poblanos and Sides as well as decadent Shrimp Bisque Poutine.
Thursday at 3|2c
Donut Showdown: "Retro Diner"
Donut maker Barb from Hamilton, Ontario, Pastry Chef Mariah from Los Angeles and Executive Chef Jeremy from Chicago compete in a mystery-ingredient elimination round. The final two standing have to impress the judges by making three donuts with a "retro diner" theme. The winner takes home $10,000.
Thursday at 7|6c
Donut Showdown: "The Great Canadian Donut"
Donut makers Grant from Montreal, Michelle from Kalamazoo, Mich., and Chef Trista Sheen from Toronto compete in a mystery-ingredient elimination round. The final two standing have to impress the judges by making three donuts with a "great Canadian donut" theme. The winner takes home $10,000.
Thursday at 7:30|6:30c
Chopped Canada: "Food, Sweat and Tears"
Things really heat up as four chefs tug at our heartstrings in this emotional episode of Chopped Canada. In the appetizer round, the competition tries not to choke on processed cheese and baked beans. The entree round forces the chefs to sharpen their skills with razor clams and hickory sticks. A family favorite makes an appearance in the dessert round, placing one chef right in his or her comfort zone.
Thursday at 9|8c
Eat Street: "Bacon Mania, Baby"
Bacon Mania is a truck out of Costa Mesa, Calif., that is crazy about one thing — you guessed it: bacon. From there we pull up to the Curbside truck in Baton Rouge, La., whose plan is to improve the classics in every way they can. The Buttermilk truck in downtown L.A. is our third stop; they decided that breakfast was such an important meal that it should be served all day. The final port of call is a trip to Austin for some serious Italian cuisine at the Jalopy truck, where they serve their dishes down a slide off the back of an eighteen-wheeler!
Friday at 6|5c
Eat Street: "Hawaii-Thai-Oh"
Eat Street starts by hitting L.A. to feast on sushi at the Jogasaki truck, which serves Japanese cuisine with a Mexican twist. From there we say aloha to Opal's Thai Food truck in Honolulu as we sample their pad thai, penang curry and drunken noodles. Next we roll on down to Las Vegas to really heat things up at Sloppi Jo's truck, whose concept revolves around one special ingredient: the New Mexican Hatch chile (it's used in every dish). Last but not least, we visit Columbia, S.C. for some magical stuffed chicken wings at the 2 Fat 2 Fly truck.
Friday at 6:30|5:30c
Sandwich King: "The Mauros' Magical Disney Vacation"
In this one-hour special, Jeff Mauro and his family visit the Magic Kingdom for a fun-filled vacation with amazing meals, jaw-dropping attractions, and — best of all — time for the family to connect and laugh together as they all discover their Disney "sides."
Friday at 8|7c
Diners, Drive-ins and Dives: "Global Flavor Faves"
Ethnic food runs the gamut on DDD, and Guy totally loves to try new things. In this special, we'll check out some of Guy's favorite spots serving up all kinds of traditional ethnic dishes. From hand-pulled Chinese noodles at Peaceful Restaurant to quesadillas and tortas at Nopalito and righteous Guamanian classics like shrimp fritters at PDX671, these joints are authentic to the bone. And some of the best spots are keepin' it in the family, like the brothers at OB Noodle House cranking out all kinds of Asian dishes they picked up from their pop and the mother/son team at Irazu serving up Costa Rican classics. Sit back, relax and get ready for your flavor jets to get kicked into high gear.
Friday at 10|9c
The Pioneer Woman: "Football Camp"
Ladd's coaching football camp and Ree's making lunch to go for 120 hungry coaches and kids. To feed this crowd, she's whipping up a picnic of Hot Roast Beef Sandwiches, Spiced-Up Potato Chips and Football Fruit. At the end of camp there will be a special treat of chocolate spreads with three delicious toppings.
Saturday at 10a|9c
Trisha's Southern Kitchen: "Feeding the Home Team"
Whether for a tailgate party or a big family, today's recipes are perfect for a hungry crowd. Trisha has invited former NFL star Kurt Warner and his wife, Brenda, over knowing that their family of seven means they're well versed in cooking for a large gathering. Today they'll be making Barbecued Pork Ribs, Easy Baked Beans and Butterscotch Peanut Butter Bars.
Saturday at 10:30a|9:30c
The hosts of The Kitchen are getting ready for the big game with a ton of ideas for throwing the ultimate football party. Throughout the show a football stadium made out of food will be constructed. Meanwhile, Geoffrey Zakarian makes the best game-day chili, Sunny mixes a delicious pitcher of cocktails, Katie makes the ultimate dip, Jeff constructs the perfect sandwich and, since you can't have a party without something sweet, Marcela bakes a scrumptious pie.
Saturday at 11a|10c
Rachael Ray's 3 in the Bag: "3 Times the Flavor"
Today's timesaving menu is all about big flavor, thanks to a couple marinades and a rub. First up, Lemon Pepper-Cured Chicken with Fennel Salad. Next, Eggplant Schnitzel and Roasted Peppers — crispy and delicious, it's a dish to please vegetarians and meat lovers alike. Then, for beef eaters, it's Espresso Steak with Baked Zucchini and Potatoes — a jazzed-up meat and taters supper.
Sunday at 9:30a|8:30c
Guy's Big Bite: "Super Southern Sliders"
Today Guy's buddy is coming over to pregame and help make chicken and waffle sliders. These combine juicy fried chicken, crispy waffles, apple-cabbage slaw and sweet-spicy mayo to make championship-winning sandwiches. To go with that is a black-eyed pea salad packed with veggies and plenty of crispy bacon, all in a red wine vinaigrette. Now that's a game-worthy salad!
Sunday at 10a|9c
Sandwich King: "Gridiron Grub"
Jeff kicks off his gridiron grub menu with Grilled Summer Sausage Sliders topped with melted cheese and pickled fennel. Next, it's a Sampler Platter Sub filled with mozzarella sticks, chicken fingers and roasted jalapeno poppers. And the perfect snack for any party: Popcornapalooza — buttery popcorn tossed with crispy bacon and ancho chile powder.
Sunday at 10:30a|9:30c
Giada at Home: "Game-Day Goodies"
Giada puts her spin on foods to enjoy while watching the big game. The menu includes Sweet and Sticky Pork Ribs with balsamic barbecue sauce, Sweet Potato Tots with Dill Dust and Strawberry Wonton Cups with Orange Mascarpone Whipped Cream.
Sunday at 11a|10c
Barefoot Contessa: "Welcome-to-Town Party"
Ina is throwing a housewarming party for a new colleague. She's got the lowdown on travel-friendly dishes made from local ingredients, like Corn and Avocado Salad, Roasted Summer Vegetables and Tequila Citrus Chicken. She also shares fantastic tips for putting together a local cheese platter and a dessert platter, plus buffet strategies we'll all want to try.
Sunday at 11:30a|10:30c
Iron Chef America: "Big Game Day: Symon/Forgione vs. Morimoto/Garces"
Two teams of Iron Chefs skirmish in a big game-day clash: Michael Symon and Marc Forgione team up against Masaharu Morimoto and Jose Garces. The judges are Donatella Arpaia, Mike Greenberg and Caroline Manzo.
Sunday at 9|8c
Cutthroat Kitchen: "A Penny for Your Chocolates"
One contestant is turned into a potato artist when forced to mold french fries out of a vat of mashed potatoes. Then it's time to go camping, as another must build a fire to cook a kebab plate. Finally, a chef takes more than his or her fair share of turns while searching for chocolate to make chocolate chip cookies.
Sunday at 10|9c
More posts from Joseph Erdos.
Similar Posts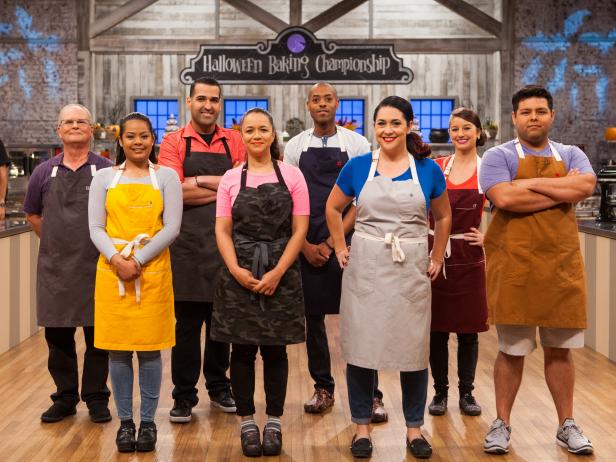 Get the details on the all-new season of Halloween Baking Championship, premiering on Sunday, Sept. 25 at 9|8c....