Just in time for next week's big game, the co-hosts on The Kitchen — along with Rob Del Balzo, a caterer — created a super snack platter worthy of not just any tailgate but the ultimate football showdown. This "snackadium," modeled after a traditional football stadium, was almost overflowing with classic and creative munchies alike, including fresh vegetables, crackers and pretzels, plus pigs in blankets and Jeff's meaty mortadella sandwiches.
In true stadium fashion, this snack amphitheater came complete with a scaled-down JumboTron — a tablet that broadcast the co-hosts — and a map of sections that detailed where each snack would sit.
As you prepare to host your big-game bash next weekend, check out Food Network's football headquarters to find go-to snacks, like winning salsas and guacamoles, easy pigs in blankets, loaded nachos and sticky, saucy chicken wings, as well as beer-laced cocktails, hearty chilis and sweet desserts. Check out a few of FN Dish's favorite touchdown-worthy eats and drinks below, then click the play button on the video at the bottom to watch Food Network Kitchens create an over-the-top, 6-foot-long super sub.
Snacks:
Buffalo Wings
Lucky 7-Layer Dip
Big-Game Pizza Ball
Triple Pork Sliders
French Onion Dip
Main Dishes:
Super Nachos
Beef Chili
Spicy Pop Pulled Pork
Slow-Cooker Macaroni and Cheese
Wingless Buffalo Chicken Pizza
Cocktails:
Beer Sangria
Homecoming Punch
Lime Beer Cocktail
Frozen Beergaritas
Pomegranate Beer Punch
Desserts:
Game-Day Chocolate Cake
Peanut Swirl Brownies
Chewy Chocolate Chip Cookies
Almost-Famous Maple-Butter Blondies
Mississippi Mud Pie
More posts from Maria Russo.
Similar Posts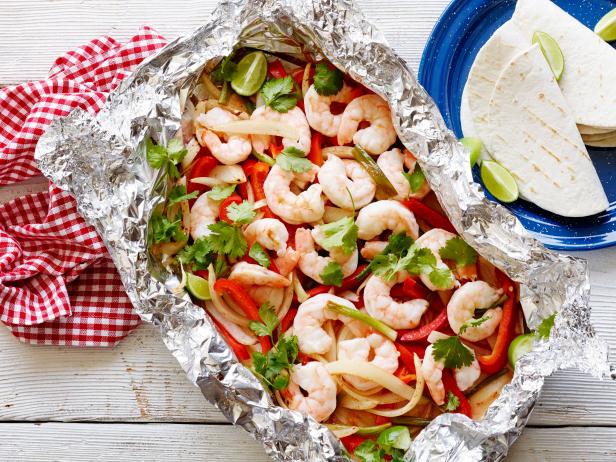 If you're looking to take advantage of the longer, sun-filled days of summer, try taking your weeknight dinners outdoors to the grill. Add foil pack...