You know Geoffrey, Jeff, Katie, Marcela and Sunny from their other adventures on Food Network and FoodNetwork.com, but for the first time last Saturday, you watched them come together on their brand-new series, The Kitchen (airing Saturdays at 11am/10c). Katie and Geoffrey cooked alongside each other, Sunny showed off her version of crepes, and the group dished about the latest trends and topics in everyone's favorite room of the house: the kitchen. Before the season gets too far underway, however, FN Dish wants fans to get to know each of the co-hosts a bit better, so we'll be sharing exclusive interviews with all five chefs every day this week. Read on below to learn more about Iron Chef Geoffrey Zakarian today, and keep checking back to hear from Jeff, Katie, Marcela and Sunny.
Tell us your culinary point of view in the kitchen in a few sentences.
Geoffrey Zakarian: Classically rooted with a modern edge
Why did you want to get involved in The Kitchen?
GZ: I just love working with Food Network, but I love the composition of the show, and that we talk about all kinds of things …. The kitchen is where everything happens, basically.
How is The Kitchen different than the other shows on Food Network?
GZ: This is really a collaborative show. Reality shows pit judges against chefs, and they pit teams against other teams, but they don't have four, five people actually discussing one subject. You can really have facts come up when five pretty knowledgeable people get around a table.
What will you bring to The Kitchen? What's your perspective?
GZ: Just be myself, and I want to have some fun, and I want to, like, debunk a lot of wives' tales. I love my co-hosts. I've known them all, and I think that we each have a unique perspective, and I'm just going to bring myself to the show.
Do you ever use recipes when you cook something new, or do you just wing it? And if you do use recipes, what kinds of dishes are they for? What are you looking up?
GZ: I can wing anything, but when someone has written a recipe that I respect and it's a really good chef, I usually try to stay pretty close to what they try, simply because I'm actually sometimes curious to see whether the recipe works, or sometimes curious to see what the outcome of it would be, seasoning-wise. It's very difficult to cook a recipe and have it come out perfect …. Once I read something over and I say that's the recipe, I might put it aside and just add a little bit, but I pretty much try to stick to what it is.
What's your go-to cookbook?
GZ: I have, like, half a dozen, at least. I think Alice Waters' The Art of Simple Food: Notes, Lessons and Recipes from a Delicious Revolution is great. As far as cooking for the family … all the Barefoot Contessa books are great 'cause they're very simple and they don't confront the person; they just bring them in.
Who's the one Food Network talent you'd most like to face off against in a friendly cook-off?
GZ: I've actually never cooked off against Bobby Flay. I would like to. I would like to cook Italian versus [Mario] Batali.
We know you're a master mixologist, both in Kitchen Stadium and out. What are the requirements for a perfect cocktail?
GZ: You have to have great ingredients. It's just like cooking …. It's no more than following a recipe, and I think that, more so than in cooking, you can wing a cocktail when you're first trying one — if you're trying different stuff. But once you want to make it consistently every time, you need a recipe. So you need to be able to jigger pour.
What should people know about pairing wine with food? Is there such a thing as a good or bad pair, or is it all up to personal taste?
GZ: It's really up to personal taste. There are pairings that would probably not work as well as others. However, there is so much knowledge right now about, like, what's good. And anybody in a wine section of your wine store would be able to tell if you if you're cooking x, y and z, what would be a good white wine to pair with it. And I think that if you drink a lot of wine, you're going to make a lot of mistakes. And if you're going to make a mistake, you get to drink your mistake.
How do you balance being an Iron Chef, being a Chopped judge, being a co-host of The Kitchen and running multiple restaurants, among your other responsibilities?
GZ: I'm a big believer in a great team. Fortunately my wife and I work together, so she takes a big chunk of [my] stuff, or watches over it, and I have a great staff at my restaurants. I really depend on them and rely on them. And it helps that all of my business is in New York City. I don't have restaurants all over the place. The day I have a restaurant in, like, a far foreign place, it will be when everything else is so solid.
Rapid fire: Think fast!
Ketchup, mustard or mayonnaise? All three, together, on a hamburger
Chocolate or vanilla? Vanilla
Bagels or doughnuts? Neither
Cream cheese or butter? Butter
Coffee or tea? Coffee
French fries or onion rings? French fries
Burgers or hot dogs? Burgers
White meat or dark? Dark
Cake or pie? Pie
Beer or wine? Wine
Tune in to The Kitchen every Saturday at 11am/10c.
Related Reading:
More posts from Maria Russo.
Similar Posts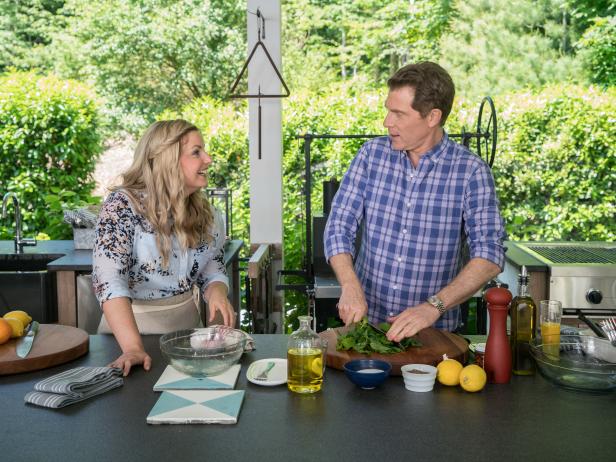 Get the latest details on the all-new series, The Bobby and Damaris Show....