The casserole doesn't necessarily have the most-fashionable rep around. (Tuna casserole, we're lookin' at you.) But don't let that misconception hold you back. The modern casserole really is a one-dish wonder, one that comes nice and bubbly from the oven. It can take you from oven to table with no effort at all. And when you're buried under scarves and sweaters, the thought of easy-to-access comfort food should warm you on its very own.
Classic lasagna may be the most-popular Italian one-dish wonder, but just consider it a starting point. Trisha fixes her vegan Black Bean Lasagna by layering black beans, homemade tofu ricotta and fire-roasted tomatoes between sheets of lasagna noodles.
Many casseroles come with a base of rice, but Rachael's Make-Ahead Paella Casserole is definitely the most vibrant. For a one-pan dose of Spanish comfort, Rachael simmers rice in an infusion of saffron before joining it with chicken, chorizo, fish and even shrimp.
The classic creamy broccoli casserole may be bound by the contents of a can, but this modern rendition is totally revitalized. Instead of using cream of mushroom, Broccoli and Orzo Casserole relies on mild, ultra-creamy Havarti cheese.
Your average taco may be the most-divine hand held creation of all, but that doesn't mean it has no place in our fork-and-knife casseroles. Using a soft layer of cooked tortilla chips, Beef and Bean Taco Casserole is an easy cross between enchiladas, tacos and chilaquiles.
Food Network Magazine's Chicken Pot Pie with Cheddar Crust is a taste of home if we've ever seen one. The crust may be totally homemade — and dusted with sharp cheddar cheese — but a store-bought rotisserie chicken makes your job so much easier.
Ree's Chicken Spaghetti bakes tangled noodles in a creamy mushroom sauce for the ultimate comfort. There's no need to bring salted water up to boil for this one; hard spaghetti cooks as the whole casserole bakes.
Make the classic sandwich that much sloppier with Rachael's deconstructed Sloppy Joe and Macaroni Casserole. Loaded with ground beef and smothered in doctored-up tomato sauce, it'll comfort any kid after a long day on the playground.
With a look at this list and a little plastic wrap, your contribution to next month's big-game potluck is taken care of.
Get more casserole recipes from friends and family:
The Heritage Cook: Tex-Mex Arroz con Pollo (Gluten-Free)
Jeanette's Healthy Living: Smoked Sausage Chicken Cassoulet
Big Girls, Small Kitchen: Cheesy Butternut Squash Enchiladas
Dishin & Dishes: Black Bean Enchilada Pie
Weelicious: Chicken Wild Rice Casserole
Dishing with Divya: Chicken Mushroom and Black Bean Tortilla Casserole
Taste With The Eyes: Paella Rice with Baby Octopus & Meyer Lemon
Blue Apron: 11 Super Casserole Recipes for a Super Bowl Feast
Napa Farmhouse 1885: Pork Chop Casserole with Crimini Mushrooms
Red or Green: Stacked Cheese Enchiladas with New Mexican Red Chile Sauce
Elephants and the Coconut Trees: Chicken and Rice Casserole
The Sensitive Epicure: Tater Tot Breakfast Casserole (Gluten-Free)
Domesticate Me: Mushroom, White Bean and Brown Rice Casserole with Bacon and Gruyere
Daily*Dishin: Chicken Tetrazzini Casserole
Devour: Dinner Casseroles
More posts from Allison Milam.
Similar Posts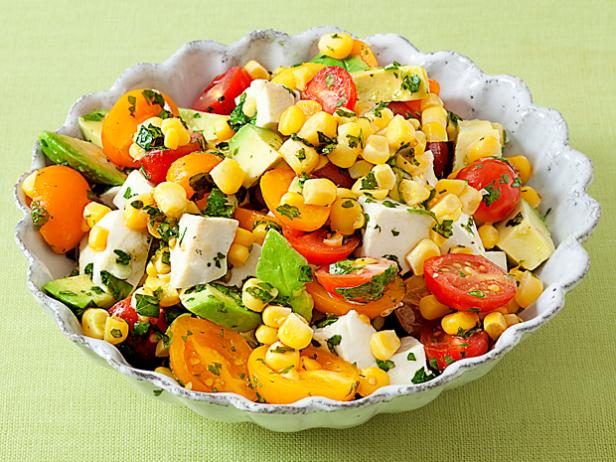 When it's too hot to cook, look no further than these tomato-focused recipes....