FN Dish is counting down to the Season 3 premiere of Rachael vs. Guy: Celebrity Cook-Off by introducing a new celebrity contestant every day. During the competition, the celebrities will be tested in a number of different challenges to see who has the most culinary chops. The winner will be awarded the title of Cook-Off Champion and $50,000 for the charity of his or her choice. Watch the premiere Monday, Jan. 6 at 9pm/8c, and keep coming back to FN Dish for exclusive interviews and behind-the-scenes content.
Actress and comedian Judy Gold has received many accolades and award nominations for her two long-running off-Broadway shows: The Judy Show: My Life as a Sitcom and 25 Questions for a Jewish Mother. Judy has also won two Emmy awards for writing and producing The Rosie O'Donnell Show, and appears regularly on the daytime talk show The View. Now she's turning her attention toward winning a different kind of award, and it's no laughing matter: After facing the Chopping Block on Chopped earlier this year, Judy wants redemption. Judy is playing for Project ALS.
Describe your cooking style in three words.
Judy Gold: Really, really, messy
What's the first food you recall making?
JG: Hot chocolate from scratch
What's the most-memorable meal you have ever had?
JG: Hungarian Goulash with egg noodles, braised red cabbage and fresh challah bread during a blizzard
Who is your favorite chef or food TV personality, past or present?
JG: Julia Child
What food will we never catch you eating?
JG: Shellfish in front of my mother
What's your signature dish?
JG: Roasted chicken
What's your guilty pleasure food?
JG: Frozen Girl Scout cookie Thin Mints
What's your favorite kitchen tool that you can't live without?
JG: Tongs
What's the weirdest item we'd be surprised to find in your fridge?
JG: Nail polish
What music do you like to listen to in the kitchen?
JG: Show tunes — don't tell anyone.
Going into Rachael vs. Guy, who would you pick as your biggest competition and why?
JG: Penn Jillette — he's bigger than me.
Why do you want to be the next Rachael vs. Guy Celebrity Cook-Off Champion?
JG: I want to win for Project ALS.
Rapid fire: Think fast!
Sweet or Savory? Savory
Coffee or Tea? Coffee
Vanilla or Chocolate? Chocolate
Ketchup, Mustard or Mayo? Ketchup
French Fries or Onion Rings? French Fries
Salt or Pepper? Pepper
Burger or Hot Dog? Burger
Beer, Wine or Liquor? Wine
More posts from Joseph Erdos.
Similar Posts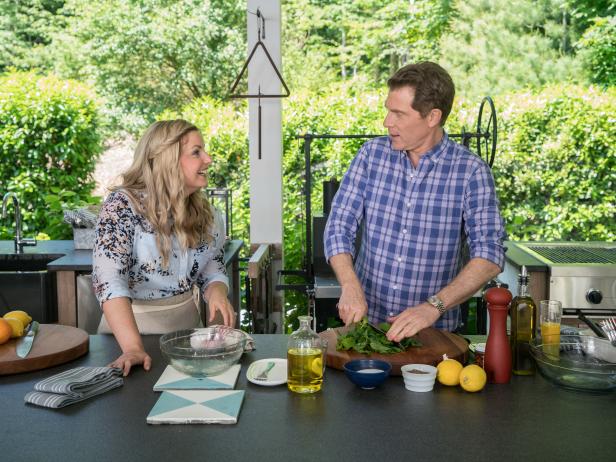 Get the latest details on the all-new series, The Bobby and Damaris Show....