For a dish that requires just the two ingredients of its namesake, there are so many ways you can make mac and cheese happen. It can be stirred on the stove or baked till golden, donning breadcrumbs or done au naturel, filled with extras or made just with cheese, plain and simple. No matter your method, a meal of mac and cheese is sure to bring comfort.
1.Classic: With elbow macaroni, crispy breadcrumbs and the obligatory spike of powdered mustard, Alton's top-rated Baked Macaroni and Cheese (pictured above) is probably the most iconic of them all.
2. Seasonal: For a dose of seasonal comfort, Rachael's Butternut Squash Mac and Cheese is a different kind of creamy with just a touch of sweetness.
3. Spicy: Just because good ol' mac is comforting on its own doesn't mean it couldn't use a little kick every now and then. Sunny's Spicy Macaroni and Cheese is spiked with cayenne pepper and pepper jack cheese.
4. Easy: Nothing's quite as heartening as knowing that dinner is taken care of. Whip out your slow cooker for Trisha's Slow Cooker Macaroni and Cheese, which takes only 10 minutes of prep before coasting towards dinnertime.
5. International: Reinvent the decadent Italian pasta dish with Bobby's Mac and Cheese Carbonara, which incorporates salty pancetta, creamy eggs and a total of five cheeses.
6. Luxurious: Cracking into a whole lobster may be the most exciting way to eat this delicacy, but make it even more comforting with Ina's Lobster Mac and Cheese. She weaves whole pieces of buttery lobster meat into bites of Gruyere and cheddar.
7. Weeknight-Worthy: Rounded out with protein and veggies, Rachael's Mac and Cheddar Cheese with Chicken and Broccoli has "weeknight wonder" written all over it.
8. Crowd-Pleasing: Buffalo chicken is glorious on its own — but buffalo chicken in macaroni and cheese? That's a force to be reckoned with. Food Network Magazine's Buffalo-Chicken Macaroni and Cheese works as a gameday mashup or a rich dinnertime treat.
9. One-Pot: Fetch a spoon and stir Stovetop Mac and Cheese until it reaches creamy perfection. Alton's addition of evaporated milk makes it ultra-velvety.
10. Spoon-Friendly: Looking for something you can slurp? Steamy chicken broth thins the standard casserole into Food Network Magazine's delectable Mac and Cheese Soup.
Get more mac and cheese recipes from friends and family:
Feed Me Phoebe: Jalapeno-Scallion Mac n Cheese
Jeanette's Healthy Living: Triple Cheese Chicken Pasta Bake
Dishing With Divya: Baked Mediterranean Macaroni and Cheese
Weelicious: Green Mac and Cheese
The Heritage Cook: Gluten-Free Mac and Cheese
Taste With The Eyes: Macaroni and Roasted Garlic Cauliflower Gravy
Red or Green: Mac & Cheese with Tuna and Green Chiles
Napa Farmhouse 1885: Mac & Cheese with Roasted Cauliflower and Leeks
Virtually Homemade: Ham and Cheese Mac and Cheese Bites
Domesticate Me: Skinny Mac with Cauliflower Cheese Sauce and Chicken Sausage
The Sensitive Epicure: Cauliflower 'n Cheese (Gluten-Free)
Devour: Mix-Ins for Macaroni and Cheese
From My Corner of Saratoga: Queso Mac and Cheese
More posts from Allison Milam.
Similar Posts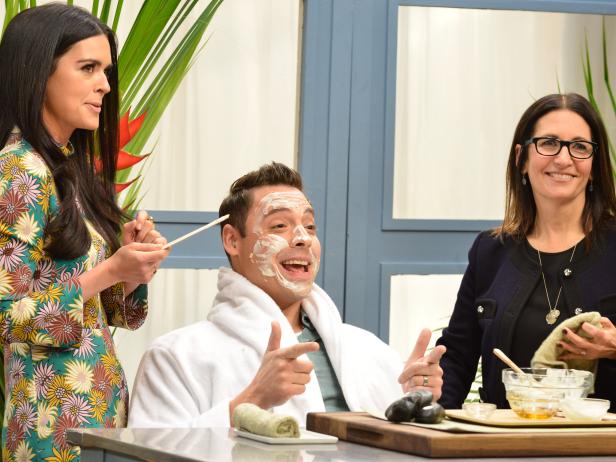 You don't have to travel somewhere exotic to make the most of your time off....